An Attitude Of Gratitude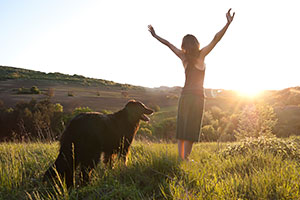 As I worked through my struggles in life I became a very negative and pessimistic person. I grew up in a home that was fear-based. I was told not work downtown as I would be mugged, raped and murdered. I was told not to change jobs, as the new job may not work out. I was made to believe that I would never find the right guy. I was also told to stay with the wrong guy I was dating, because I may not find a more suitable partner.
Well, the other side of the coin in all this was that I am rebel at heart. I had to prove those messages, and their messengers, that they were wrong. And I tell you, I did! I overcame so many obstacles in my life that after a while I developed this attitude, I mean a really bad attitude, of resentment, hurt and anger.
Gratitude is an art of painting an adversity into a lovely picture ~ Kak Sri
Over the past ten years, I have worked on my bad attitude. I have discovered instead an attitude of gratitude. But, you may ask, are we not naturally grateful for the blessings life has to offer? My answer is no. Gratitude and appreciation is an attitude you learn to cultivate, and eventually, like everything else in life, it becomes a lifelong habit. At least for me it has been this way.
First of all, you need to make a commitment to change your attitude. For some this may not be easy. It was very difficult for me to admit I needed an attitude adjustment. It took a lot of practice, time and patience, but it worked out in the end.
Developing an attitude of gratitude takes some creative thinking on your part. I had to take time to work on it, either in the morning or in the evening before bedtime. I purchased a little notebook to serve as a gratitude journal and started to listing five items I was grateful for in that particular day. It would be anything really. Sometimes just getting out of bed for me at that time was enough to be grateful for.
I had to continually ask myself what I was truly grateful for. If I felt the eternal pessimist coming out, then I would change my attitude right there and then. I cannot emphasize this enough: it takes time and practice to change your negative mood, but it does work if you put the commitment into it.
In the depth of winter I finally learned that there was in me an invincible summer ~ Albert Camus
I have managed to change my attitude and made a 180 degree change. I am no longer the Negative Nancy I once was. Even now, when I feel the glass is half empty or have cynical thoughts pop into my head, I do an internal check. I ask myself what is the good side of this situation? A lot of times the least obvious good part of the situation is staring me right in the face. I have lately been accused of being a sort of Pollyanna at times!
Right now, as I look back upon my life, the obstacles and challenges of the past are all blessings in disguise. It brought me to where I am now. I am grateful for the opportunity offered by circumstances in my life which led me to a place of peace, love and increased understanding.
Why not cultivate your own attitude of gratitude? Your life will start to change for the better and you will be able to withstand the challenges and obstacles in front of you with grace.

About The Author: Angelic Amy

Amy's two near death experiences (NDE's) pushed her natal psychic abilities into overdrive and her story is featured in a famous psychic medium's new book! She's experienced a rich life full of more ups and downs than most encounter in a lifetime, which has only helped her connect to her clients on a deeper level. Tapping into her clairvoyant, clairaudient and Mediumship abilities, Amy is a prominent radio show host, has appeared on other radio shows, and is a popular Tarot reader at Psychic Fairs and parties. This native New Yorker is an experienced energy healer, a Reiki Master, and channels gentle Angelic energies through an Integrated Energy Therapy Technique. It's an honor for Amy to help you in your time of need. If that time is now, you can find this gifted psychic at PsychicAccess.com.