Tarot In Chapters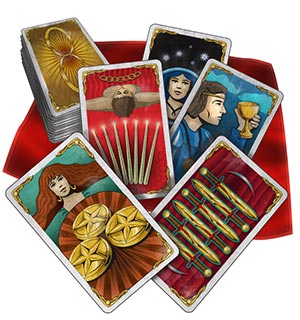 It is always important to remember that psychics, empaths and intuitives have different techniques and gifts as readers. In my Tarot readings I do not use any popular spreads, although I originally started out with an ordering method that helped me organize the temporal tenses and see how cards 'talk'.
My basic spread was always like this: distant past, recent past, future desires, present obstacles or problems, future problems, near future outcomes, far future outcomes. This simple linear spread was what I used to train myself in reading the Tarot.
When I went traveling, I experienced many alternative forms of reading, some even on safari – driving along broken roads in Eastern Africa. Some I discovered in unusual places, others on my lap. I lost one card on the plane, and it was a 'journey' card from one of the decks I owned. If I were ever to be lost in the wild, I would leave a trail of cards, detailing where I had gone or what I was thinking when I drop them. That way my fellow readers would be able to find me!
Now, in terms of what this means for timing in cards, I have to be clear. I open a reading for you, and I will give you the other person's state of mind, the coloring of the character. Within that I will get all of their reasons for abandonment, or their fears.
I work with real emotional states, and since a good portion of people are anxious at present, I clear through these energies first, if I can, and then I will work the better wishes, loves and desires into the reading.
I tell my clients, this is only "Chapter One" – if one were to flesh out the character and look at one reading, today. Occasionally I get long-term readings for clients, but often, upon first glance, I will get only Chapter One.
Chapter One is usually the essence of what is bothering you now. This may likely detail the next three months for you in your reading. Or sooner. It would be what you really need to know. But this is only the first chapter in your life starting today, and many people do not like the First Chapter. They call when things are bad, so to hear it remain that way could sound terrifying. Yet again, it is only one part, one very important chapter in your 1000 chapter life.
I often find I have to get to know the client to get beyond this point, and occasionally readings over time, when it can be afforded, will reveal the Second and Third chapters. But with my abilities, probably not much more than two years into the future. This would probably only be worth four to ten chapters in itself, but it can be helpful when having to face the daunting fearful chasm of life.
And when one works on this coloring book, it may take some time to find all the details in the picture, but in time, all will be revealed, even for you, especially for you.
About The Author: Carmen Miro

Carmen's waking dreams have provided accurate glimpses into the future for celebrities as well as political and international figures. Her non-judgmental, Empathic approach, as well as her unique method of Tarot reading, affords her the reputation as a groundbreaker in her field. This European born Canadian is the first online psychic to promote the idea of Empathy and emotional thought transference, and she has written a great deal on the subject. For a comprehensive Intuitive reading that will transform your life, you can find Carmen at PsychicAccess.com.