My Crazy Life Staying In The Now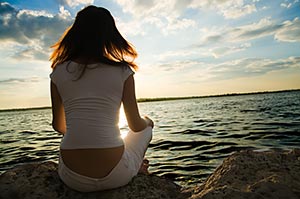 People ask me how I'm doing, and I say I'm doing good. But what I truly want to say is that my life is actually crazy! For four years and three months I have been on cancer medicine that made me gain 50 pounds, and then I relapsed with an eating disorder. But that poison kept me cancer free for four years and three months. So, my feelings are all mixed up. Do I love it? Do I hate it?
See? Crazy life!
But my life is also good. I have a wonderful husband of 33 years and two very loved dogs and a cat that thinks he owns the place.
Realize deeply that the present moment is all you have. Make the now the primary focus of your life ~ Eckhart Tolle
So, what has happened recently that has made my life even crazier? It seems that my mammogram showed that I have calcification in my left breast and I need a needle biopsy to see if it's cancer. How do I remain calm, cool, and collected while doing readings and intuitive counseling sessions, when I feel like my life may be falling apart? I practice what I call "Staying in the Now".
For instance, right now I am talking into a microphone and my words are being dictated on to a program called Word. That is what I am doing now. I am not thinking about what I will do after I am done, and I am not thinking about what I was doing previously. I am totally focused on now. That seems to create what I call a "Still Mind". This Still Mind helps to reduce any anxiety or panic that I might feel. It also helps me focus on what I am doing in the moment.
You may be asking yourself, how do you get to the place where you can quiet your mind? I apply a technique I use when I rarely experience a post traumatic stress flashback. I remind myself what year I'm in and I remind myself with age I am. I remind myself to feel what it feels like to have my body sitting in the chair that I am sitting in. I have my feet resting on the floor, so that my feet can tell me what it is like to feel the floor under my feet. I feel my hands in my lap. I feel my tongue in more mouth. I try and make everything as real as possible. I try to be fully in my body without any disassociation. Disassociation is when you leave your body. All of this quiets my mind and helps me to stay in the now.
Life is not lost by dying; life is lost minute by minute, day by dragging day, in all the thousand small uncaring ways. ~ Stephen Vincent Benét
Does Staying in the Now make the fear disappear? No. Does Staying in the Now bring comfort to my heart? No. Does Staying in the Now make me happy? No. Staying in the Now makes me calm. It makes me feel like I'm not going to jump out of my skin while I am waiting for a result. Staying in the Now is not always easy and it can take practice. It is very possible in most situations. Staying in the Now is far better than worrying about the future and about the past. That is what I call "Wasted Worry".
Next time you are in a situation where you feel anxiety, you just might want to try Staying in the Now. I hope it works for you like it works for me. Every time.

About The Author: Mataya

Mataya's Light Readings are a gift from a higher source that she's worked hard to develop throughout her life. She understands more than most what it's like to struggle with emotional and physical roadblocks and with a Masters in Counseling, she has spent many years using her natural psychic gifts and acquired knowledge to see clients through difficult patches. Since 1988, she's professionally guided others, using Tarot and other divination tools, at various psychic fairs in California. She's worked one-on-one with clients in metaphysical shops, and enjoys a successful online practice. She's channeled energies from her guides and passed on accurate information to her clients. A true Sensitive, Mataya takes on the energy of others, feeling and sensing their challenges. Her name came to her out of the blue one day and she has since learned that Mataya mean's God's gift. If you'd like to experience Mataya's incredible gifts for yourself, try a reading with this compassionate and accurate reader. You can find Mataya at PsychicAccess.com.


2 Responses to My Crazy Life Staying In The Now