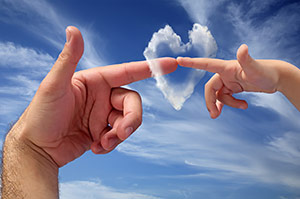 Not too long ago we came up on the one-year anniversary of my mother-in-law. She passed January 16th, 2013, and as I was moving through the grieving process I was told by spirit that this is a conversation, a topic that they'd like me to write about.
The number one question that I receive in my work is, "How do I connect with my loved one who has passed; how can I communicate with them?" The most important thing to know is that simply by thinking about your loved one it creates a very strong connection and communication. I found myself, on Phyllis' one-year anniversary, very weepy and missing that physical closeness. Missing that human relationship that we have with our loved one is very common. It is difficult to move into a new relationship where the communication can actually be even stronger, because there is no barrier of time and space.
Love is the emblem of eternity; it confounds all notion of time: effaces all memory of a beginning, all fear of an end ~ Madame de Stael
You can honestly connect with that person any time, any moment, simply by thinking about them. That is how I began communicating with my own father 17 years ago. I simply would have conversations in my head. In the beginning I thought I was making it all up, but after a while I began to realize it was actually him talking back to me.
So, if you want to begin communicating with your loved one from beyond, be sure to take some quiet time during your day, first thing in the morning or last thing at night, and talk to them as if they were sitting across from you at a table. Don't worry if you don't get any response in the beginning. The key is consistency.
It may help to have a picture of your loved one or a special memento to help you connect with their energy. Their energy remains the same, because our soul is eternal.

PsychicAccess.com.


Julie is a psychic Medium, healer, and spiritual educator from Wisconsin with a plethora of metaphysical credentials too long to list here. After her father's passing, almost eighteen years ago, she fully embraced her natural gifts as a psychic Medium and now works full-time helping others all across the globe with spiritual readings and teachings from the beyond. She is the host of two radio shows, the owner of her own healing business since 2007, and heads an online University for international soul development (HSU). Julie is a Channel for Archangel Metatron, delivering clear messages to clients that transform their lives. If you'd like to experience this highly qualified and gifted metaphysician for yourself, you can find Julie at