Energy Healing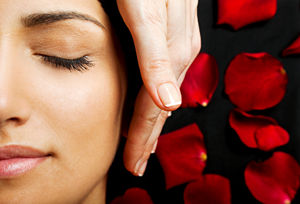 Your natural energy healing abilities are an important part of your life purpose. There is a Universal Life Force energy field that surrounds us and that we can all tap into, but there are people that are gifted in this area.
When someone is an energy healer it means that they have a special gift, a special talent to heal others with energy. There are a couple things you can do with this gift. You can use it to help heal yourself and your friends and family.
I activate the energy simply by rubbing my hands together and I can feel them get warm and tingly. Then, if my daughter has a headache, ache or pain, I rub my hands together and place them on her. Also, if my husband has an achy knee or pain in his neck I do the same. It's been phenomenal how effective this has been.
The art of healing comes from nature, not from the physician. Therefore the physician must start from nature, with an open mind ~ Philipus Aureolus Paracelsus
I've even taught my husband how to do this and he's quite good! His hands get really hot when the healing energy is flowing through them and he often times can help get rid of my headaches.
I usually recommend leaving your hands in place for about five to ten minutes. Mine will get cold or I'll hear a voice that says "done."
I do believe that we all have this gift to access Universal Life Force energy to heal ourselves and others and that we don't need any special classes or certification to be able to use it.
I've noticed that classes and certifications amplify this energy for the healer, but that truly is only necessary when you are using it in your profession and getting paid for this service.
Did you find value in our message today? How have you used energy to heal someone without even knowing it?  Have you ever studied Reiki or other types of energy work?  I'd love to hear your stories. Be sure to share your thoughts in our comment section below.
About The Author: Julie

Julie is a psychic Medium, healer, and spiritual educator from Wisconsin with a plethora of metaphysical credentials too long to list here. After her father's passing, almost eighteen years ago, she fully embraced her natural gifts as a psychic Medium and now works full-time helping others all across the globe with spiritual readings and teachings from the beyond. She is the host of two radio shows, the owner of her own healing business since 2007, and heads an online University for international soul development (HSU). Julie is a Channel for Archangel Metatron, delivering clear messages to clients that transform their lives. If you'd like to experience this highly qualified and gifted metaphysician for yourself, you can find Julie at PsychicAccess.com.


One Response to Energy Healing