In Time You Too Will Understand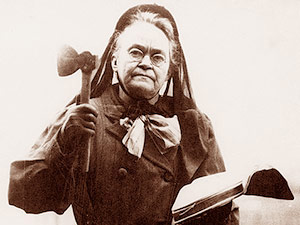 In our family we had two very different grandmothers. One was a very young grandmother, and the other was called "granny" because she was much older. Granny Edna May, the "old" granny, was mostly dismissed by the children in the typical manner, although the older grandchildren in our family were closer to her. Personally, I never took much time to discover her value.
This changed after my grandfather died, when Edna May moved in to our lovely family home. By this time she was in her late 80s, and I was around age 17. Her bedroom was close to mine and often when I walked by her door she would call me in to sit with her. She told me some remarkable stories.
It is the duty of children to wait on elders, and not the elders on children ~ African Proverb
Edna May was born in 1890, and married in 1917, when she was 27 years old. At the time it was considered an advanced age for a woman to marry. She also told me fascinating stories about horses and buggies, the death of her young mother, her brothers and sisters, and many more. Being a devoted catholic she would have her rosary beads in hand, and these were doing double duty from early morning until late at night! She was most proud of what she called her pledge to "Carry Nation."
I was intrigued by this "Carry Nation" woman she kept referring to, but who was she? Perhaps she was just a fictitious character that my grandmother invented? For my grandmother, who was 13 or so years old at the time she was introduced to her, Carry Nation was a significant timeline influence by "a woman who was like no other."
In later years I did some research on Carry A. Nation. She was an anti-alcoholism activist, because of her first and short marriage to an alcoholic, and a member of the temperance movement. Apparently she expressed her views against alcohol by "smashing up" drinking establishments with a hatchet in one hand and The Bible in the other. Most people thought she was insane, because she continued showing her opinion even after being arrested and beaten for wrecking saloons. She described herself as "a bulldog running along at the feet of Jesus, barking at what He doesn't like."
Ms Nation believed that drinking and drunkenness was the cause for many problems in society. Her actions against drinking helped to pass the Eighteenth Amendment to the United States Constitution, which banned the manufacture, sale, and transportation of alcohol. My grandmother gave her word of honor to Nation during one of her community visits. Her anti-alcohol campaign quickly received national attention and her aggressive approach was fast achieving results. In a matter of months she did more to enforce prohibition than churches and other groups were able to accomplish.
I felt invincible. My strength was that of a giant. God was certainly standing by me. I smashed five saloons with rocks before I ever took a hatchet ~ Carry Nation
At the beginning of her campaign against alcohol abuse and addiction she adopted the unusual name "Carry A. Nation," mainly for its value as a slogan. She even had it registered as a trademark in the state of Kansas. She believed that it was providential and that she would literally "carry a nation" to prohibition.
How ironic was Edna May's fascination with Carry Nation, since her only son (my father) turned out to become an alcoholic in his adult years. She was 40 years old when he was born, which was unthinkable in those days! I remember my granny going on about the time when my father was growing up and how they never had any alcohol in the home. It was evil and forbidden, since she had made that solemn pledge to Carry Nation.
It was true that my father never had a drop of alcohol until he was 25 years old, but by then was already in a fast-paced corporate lifestyle, which would prove to be one that eventually included a lifelong journey as an alcoholic. He was a functional alcoholic, but this did not make any difference. He was good to his parents: he bought their first home, spent time with them when he was not out of town on business, and cared for them in every way.
However, the irony does not end there. Believe it, or not, but by the time my granny Edna May moved in to our family home she was also a fully fledged, bona fide alcoholic! Our longtime family doctor said, "Let her be, she is old and after all he was prescribing it to her as medication." Well, she could handle her medication for sure, and if you missed giving her the "prescribed" six pack of beer, she made it known that she was not happy. She could also drink more than her fair share of vodka, neat.
In time my father sold the family home and everyone, except myself, moved to San Diego, including my brother and his family, and my sister and her family, and so on. My granny was moved to a nursing home nearby and I became by choice her day-to-day "pal". I would see her at least four to five times a week and would bring her, of course, her "medication" for the week. She had so much beer and bottles of wine stocked up that I would have to keep an eye on it, since the staff was helping her to consume it.
Children begin by loving their parents; as they grow older they judge them; sometimes they forgive them ~ Oscar Wilde
During this time my grandmother and I became very close, and it was lovely. She loved "her boy" (my dad) and would pray for him to stop his "nasty drinking." She was worried about him. Of course she did not see anything wrong with her own drinking. It was her medicine, it was.
I was 24 years old the last time I saw her. She was conscious, but not really present. I was told she did not have a stroke or any other serious malfunction, but she was trying to speak words to me and nothing would come out. I stayed for a few hours and she continued to try and say whatever she was trying to, but still no sound. Her eyes were so intensely blue, just like my dad's. Her white long hair reached her waist and as always she was wearing her favorite roll-on perfume that I will never forget. I finally left, feeling that it was the last time I would see her.
That evening I stayed with my parents and had what I call a 'visitation dream'. I am not usually one to have any psychic messages through my dreams, but in this dream my grandmother woke me up and was hovering over me and said: "I am sorry, but I was trying to say goodbye to you and tell you that I felt at my best and youngest over the last years that we shared together. I wanted you to know that you are a good girl with a heart overflowing with love."
She spoke so clearly, better than ever before. She continued to tell me to promise her to watch over her "baby boy Jack." I said, "Granny what are you talking about?" My dad at that time was about the age I am now and what did she mean? She would not stop or leave until I promised to make sure that he would be okay. I said, "Fine, I promise I will do that." She smiled and was gone. A few minutes later my mother walked in to where I was sleeping, but I was already awake from the phone ringing with the news that my granny had died.
I had a hard time with the likes of my father during my early years. He was a fun, generous man, but I still had issues with him. By the time I had reached 40 I moved to San Diego, by choice, since my parents were getting older and I felt it was the right thing to do, even though there were five other siblings who could have taken on this responsibility. In this time my dad and I became very close, just like I had with his mother in her later years.
The job of every generation is to discover the flaws of the one that came before it. That's part of growing up, figuring out all the ways your parents and their friends are broken ~ Justine Larbalestier
My dad was a strong man, with a spirit to match, even though he had difficult medical problems in the final years. He seemed to thrive, unlike most would. The year of my parents' 50th anniversary my dad became very ill and the doctors at that time did not know what was going on. He was in and out of the hospital having numerous blood transfusions. This went on for months.
My daughter and I were hanging out with dad at my parents' home one day, after we had just brought him back yet again from a stay at the hospital. I suddenly smelled something really strong and familiar. I said to my dad and daughter, "Do you smell something in the house?" They both agreed a strong odor was indeed among us. My daughter and I went around the house looking to see if my mom's perfume had possibly spilled, or maybe there was a fabric softener problem with the washer and dryer, but we could not find anything.
The smell, however kept haunting me. I went on and on about how I knew that smell from somewhere, and of course my dad and daughter laughed at me, as usual. But I soon recognized the odor – it was that roll-on perfume my granny used to wear! I know in my heart that my grandmother was there that day, worried about her son. I believe that she was happy in the knowing that I was with my father, watching over him. He would live another 13 years, and I was with him and had his best interest until he died.
I wrote a previous blog titled, "Not Only My Father, Also My Best Friend" about my relationship with my dad. Looking back now I realize my grandmother was on top of her game when she asked me to promise her to watch over her son. At that time the significance of aging parents was unclear to me. Perhaps this story will make no sense to the younger person who still has both parents alive and well. But in time you too will understand.
Reference: Nation, Carry Amelia. The Use and Need of the Life of Carry A. Nation. Topeka: F. M. Steves & Sons, 1905, 1908
Image: Carrie Nation 19210 by Philipp Kester (German photojournalist, 1873-1958) [Public domain], via Wikimedia Commons
About The Author: Maureen

Maureen's professional background of 25 years experience has proven to be feasible and above all advantageous to clients such as Disney and Fortune 500 executives as well as professional heavyweight boxers. Her unusual life experiences and vivacious style create a unique ambiance for her clients who enjoy this fascinating, energetic, and talented reader. Get a psychic reading with Maureen at PsychicAccess.com


One Response to In Time You Too Will Understand