The Angel On Flight 105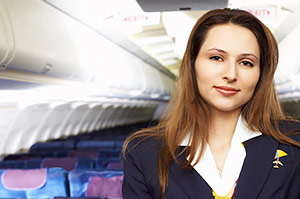 I believe in Angels, because I met one in person during a flight home.
On my most recent business trip I took Flight 105 to return to the Fraser Valley. I had been on a long, emotionally challenging excursion and I was undoubtedly exhausted. I had done 19 readings in five days. Each session lasted an hour or more, and being true to self, I also took calls and answered email questions between the appointments.
At this time I put my whole being into dealing with others, but not what truly needed to be addressed: a heavy, personal emotional burden that would not release its grip on me. Instead I firmly put work into the forefront, to avoid facing the reality of my personal life.
We are each of us angels with only one wing, and we can only fly by embracing one another ~ Luciano de Crescenzo
There is an emotional, spiritual and physical price you pay for being "on" all the time. In truth, anyone that is truly dedicated to their craft, no matter what that may be, will pay – whether we are able to acknowledge it, or not. Add life to the mix and there you have a recipe for disaster!
As the passengers were boarding Flight 105, no one came to sit beside me. I had the whole row at the back of the plane all to myself. Finally, I could relax. "Good," I thought, "quiet time to just be."
This was the final leg of my journey. I had a two hour layover at another airport after the first leg, and hadn't had a moment's peace from all the energies swirling around me. As much as I wanted to be left alone, people kept approaching me to chat. I don't really recall if I answered any of them. I was trying to stay inside a protective cocoon I created for myself, though it was apparent that it was not working. My energy was spent and my force field was now malfunctioning.
The pilot announced that we would be hitting extreme turbulence on our ascent, until we reached cruising altitude. He was not exaggerating. The plane was being tossed from side to side and dropped, what may have been hundreds of feet, before grasping it's place back into the ascent.
Wherever there is a human in need, there is an opportunity for kindness and to make a difference ~ Kevin Heath
Being tossed around an airplane can be a frightening experience, but I wasn't frightened. As my body was being pulled against the window and then toward the empty seat beside me, I got to watch the experience from outside my body. Like watching a movie, I was physically living out what I had just experienced on an emotional level during my trip. Once the plane reached cruising altitude, as promised, all calmed down, and we were smoothly flying through the air towards my home – my place of comfort and safety.
I had felt alone for quite some time, as we all have at one time or another. But in the moment of acknowledging that feeling, desperately trying to calm my soul through the despair, she appeared…
Alyssa sat down beside me, motioning to the other flight attendants that she was staying with me. And stayed she did. I heard her soft voice speaking to me. I can't bring into conscious memory all that she said, only a few key words my psyche held onto.
"It's okay not to be okay …you're beautiful, and loving…you give so much, you're so tired… you're hurt…oh you are hurt."
I felt the warm tears running down my face, I couldn't stop them. I was not crying, I was releasing. And my Angel sat with me and held me through most of the trip. Comforting words of love and wisdom flowed through her. Alyssa knew nothing about me and everything about me, without me saying a word.
Be an angel to someone else whenever you can, as a way of thanking God for the help your angel has given you ~ Eileen Elias Freeman
I will never forget her eyes and voice, the hug that she gave me seemed to last forever. There was nothing strangely uncomfortable about it at all, I felt myself falling into her arms. There was great comfort and a warm energy that emanated from her. I knew in that moment I was meant to receive for a change.
Receiving is a hard thing for me, for I am the giver. I felt waves of love and comfort wash over me. I relaxed for the first time in weeks. Her words, once again repeating themselves in my head: "It's okay, not to be okay." It released the ties that bound me to my grief and exhaustion.
My Angel Alyssa, from my heart to yours, wherever you are, I will be eternally grateful for the gifts you gave me that fateful night. It will stay with me for a lifetime. I was reminded that I was worthy, and that my friends are the ultimate gift.
So, remember, when an Angel is sent, no matter what the situation, it is to remind you how loved you really are.

About The Author: Isthemus

Isthemus is an experienced psychic advisor with her own Metaphysical Company based out of the Fraser Valley of British Columbia. A natural born empath, clairsentient, clairvoyant, intuitive Counsellor and psychic advisor. Patty still does Paranormal Investigations as well as teaching workshops on how to interpret signs. You can talk to Isthemus at PsychicAccess.com.