A Healthy Psychic Friendship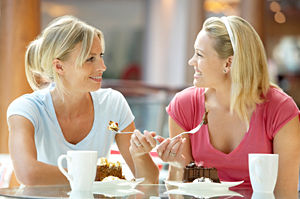 As a psychic reader I would have to say I am blessed. We all have a few friends and colleagues we can elicit free readings from, and this is always a perk in our work. We support each other.
Yet our work is somewhat mysterious. This has left us open to a few problems. I would like to describe a little in this series how psychics manage in their personal lives.
What I am talking about is probably more the psychics that manage to tell people what they do for a living. Most of my work is sourced through the web, but psychics need friends too. So what do psychics experience in friendship?
I think some of us are in our occupation because we like to nurture, fix problems and mother our friends. This is no surprise, as we often know how to soothe the troubled soul, and often, without even a glance at the cards, I am able to discern what the guy is like that my friend describes, just by listening. That's a cool friend to have, if I had a friend like me!
Of course throughout my career, most of my friendships have been this way. Due to the volume of clients and projects I have, I sometimes have my friendship almost exclusively through some of my clients, as I am often too concerned about them, and we form long strong bonds over years.
The problem arises as to what you actually say to someone what you do for a living: I do not announce it offline. When people do so for me, I become a curiosity, as they do not introduce my work in its specialty, nor do they know the stereotypes can be insulting to some of us.
I do not take on a lot of in-person clients, because it will open me up to putting me on a different level to my potential friend. It usually brings in a client. Yet, once a client always a client, in my mind. And when a friend becomes a client, well, they don't pay, and they become very reliant, and hardly ever would I see myself asking that person for help. Once 'Mama Psychic' has been imprinted with her friends' circumstances, it is fair to say we would have to continue to nurture the person for life.
Oftentimes this can bring back the most intensive and important rewards. Sometimes, more often than not, one finds oneself in conversations explaining the mystical, when all one wants to do is occasionally talk about oneself, fashion or absolutely nothing at all! Or perhaps find a suitable mentor and friend.
So many of my female clients have become friends, yet still many of them are geographically far. Some visit, but yet I find that mostly, the moment I have worked for a client, my position will always be that of an advisor.
I have researched and noted this throughout the years working as a reader. Most of us talk to each other because we are a somewhat separate entity work wise. Our casual conversation is not always fluffy, or dreamy, or spiritual, and we often need a sounding board, even for negative thoughts or frustrations.
Every psychic needs an outlet, and we try and support each other. The work we do is that of judgment, always a split second decision for a person's entire life, and we can exhaust ourselves caring, having only minutes to help. No psychiatrist, doctor or therapist would ever be expected to help someone in so little time.
I do find most of the psychics I know have good, caring souls. So, when you see your psychic, remember, she may be endlessly helping her friends – and family too, and may not know how to ask for help.
For the most part, my friends try not to ask me work-related questions, do not talk about mysticism or spirituality, and often leave me be. This is rare, appreciated and savored.
And in the end, many of us do not mind communing with the matrices of the universe on our own, in silence, in peace  with nature's mythical guardians and the voices of our own minds. We were after all born and elected to remain there, comforted in this soul assignment, just waiting to help, and occasionally, making friends that will support us completely.
About The Author: Carmen Miro

Carmen's waking dreams have provided accurate glimpses into the future for celebrities as well as political and international figures. Her non-judgmental, Empathic approach, as well as her unique method of Tarot reading, affords her the reputation as a groundbreaker in her field. This European born Canadian is the first online psychic to promote the idea of Empathy and emotional thought transference, and she has written a great deal on the subject. For a comprehensive Intuitive reading that will transform your life, you can find Carmen at PsychicAccess.com.