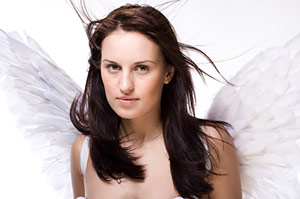 This is the fourth article in a series designed to assist you in opening to a more personal and active relationship with the Archangels.
While the Archangels I reference are used in other authors materials and teachings, the information reported in these articles are unique to my experiences with them as part of my clients' Spirit Teams as well as my own interactions with them.
Please feel free to explore and create your own unique relationship with these loving and compassionate beings.
Archangel Sandalphon
Archangel Sandalphon is one of the two archangels who has experienced a life on planet Earth. The other is Archangel Metatron. Sandalphon has a very soft energy and can often be overlooked, so one must pay close attention and really get quiet when he is in your space.
Insight is better than eyesight when it comes to seeing an angel ~ Eileen Elias Freeman
He tells me that while he is most associated with the healing power of energy, he is also interested in assisting the new children coming forward to be born into peaceful families, and also to support you in finding inner peace.
Archangel Haniel
Archangel Haniel has the feel of a moon goddess. Her energy is subtle and deeply mysterious. She works to support you in embracing the ebbs and flows of life and also to connect more greatly to the Divine Feminine.
I am also seeing her flowing golden coins. She is telling me that she has taken on the task of increasing the financial abundance and prosperity of spiritually aware and conscious women. Through their hands and good works money will flow in ways that will heal and change the lives of families and ultimately our planet.
We should pray to the angels, for they are given to us as guardians ~ St Ambrose
Archangel Jeremiel
Archangel Jeremiel has a contrasting energy to that of Archangels Sandalphon and Haniel. His presence is very strong and direct, almost like energetic drain cleaner. When I see Jeremiel in someone's space, I know they are undergoing a deep and thorough examination of self and life. He will take you to task and ensure that you release old patterns, stagnant beliefs and limiting thoughts that are keeping you stuck and reliving patterns.
The reason he is grouped with these other two, more peaceful, Archangels is because calling on Sandalphon and Haniel prior to or during your work with Archangel Jeremiel will help you gain the quiet and compassion to do the difficult inner work that Jeremiel requires to get results.

PsychicAccess.com


Megan supports people as they make positive, life-affirming change. Using her holistic toolbox of Yoga, Reiki and Readings, she'll provide you with the catalyst and skills needed to maintain the changes you make, long beyond your work together. A lifelong clairvoyant, clairsentient and student of the Mystic, she began her private practice after the miraculous healing and reawakening she experienced working with the modalities she now lovingly refers to as her Toolbox. Megan is an Angel Therapy Practitioner©, a Reiki Master, Atlantean Healing Master® and a certified Yoga instructor. Get a reading with Megan at