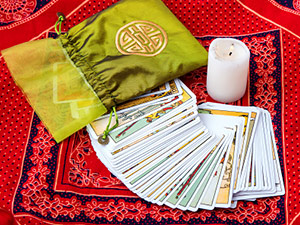 Over the years I have learned to use many different divination tools to amplify my psychic abilities and they have all been very useful: from tarot cards, to crystals and gemstones, to pendulums. And I still use them to this day depending on what I am trying to do.
If I am doing a reading about love or relationships, I will tend to use crystals and gemstones, usually quartz. Or if I am doing a career reading I'll use the Tarot or ordinary playing cards. I will let Spirit tell me which psychic tool I will be using for that particular session.
If you are a newbie reader or a medium expanding into doing psychic readings, I would suggest you start with Tarot cards for the imagery. It is a very good way of opening you up to spirit. Then I would say move up to playing cards and let spirit show you or tell you what the cards are saying. They always have a story to tell, you just have to see it and have confidence in what it is you are seeing in them. Never doubt yourself.
The way anything is developed is through practice practice practice practice practice practice practice practice practice and more practice ~ Joyce Meyer
The best way to gain confidence your own spiritual work is to practice, practice, practice. The more you listen to spirit, the louder and clearer it becomes. Read for your friends and family, you will never run out of people to read for.
Try some of the psychic tools that I have suggested and see what works best for you. Just remember, spirit is always talking. You just need to listen with a faithful heart.
About The Author: Aaron is an international psychic advisor, clairvoyant seer, and psychic healer based in The United States. Aaron has worked for over 10 years as a professional psychic and has given over ten thousand readings in that time. He is also a singer, song writer,musician and is currently playing with the band 'Urban Bleu', which he co-founded in march of 2007. You can get a psychic reading from Aaron at PychicAccess.com