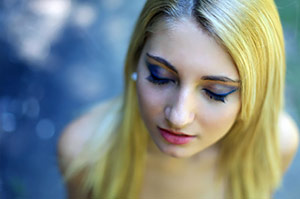 Many times over the years I have had clients ask me: can I become psychic? Is it a learned ability? Are you born with it, or can you pick it up along your life path?
The answers to these questions vary, There are a plethora of beliefs, faiths and factions when it comes to this subject.
Below are a few guidelines I personally follow to help others open that inner space and unity within their spiritual self.
1. I believe we are all born with a sixth sense. We all have a psychic ability to perceive what is around us and within us, but it is not set like the other five senses. From birth we don't see this as a gift. We rely on it to communicate with spirit and higher self.
Life will give you whatever experience is most helpful for the evolution of your consciousness ~ Eckhart Tolle
By the age of five this sixth sense goes internal and the need to tap into it is forgotten. This is caused mainly by learning and education, which are learned abilities which send this natural sense underground.
2. We all carry a sense of knowing, a gut instinct that will not be ignored. When we follow it, we find that our instincts were usually right. This is a way to tap into your psychic self. But most people don't view it this way. They consider it luck or fate.
Do you ever hear your phone ringing and look at it before answering, and you know who is on the other line?  This is a natural tapping into the ability to use your sixth sense.
3. There are ways to increase the ability to bring out this inner sense of self and knowing. You start by learning to listen to your inner voice. Meditation and quiet introspection is the best way to start this process. It allows your chakras to open fully to receive spiritual messages and rely on your instinct to 'know'.
We all have dreams that seem so real and later become reality. When we sleep our guard is down and our subconscious can bring us closer to that psychic source.
4. When we start sensing things and we are in doubt we need to step out and read others to see if this sixth sense is in tandem with what we envision. This is probably the hardest part to perform. Try it on family members or friends. It provides a safe field to test how well you are developing on your psychic path.
Have the courage to follow your heart and intuition. They somehow already know what you truly want to become. Everything else is secondary ~ Steve Jobs
As you gain confidence you will feel that psychic nudge to speak what you are receiving. You won't always be accurate but practice helps performance.
5. There will always be outside influences around you. This is the presence spirit and can be frightening sometimes. Messages from spirit leave you as a receiver and interpreting this must come from your spirit guides.
6. We all have spirit guides. Getting to know them will come into play the minute you start the process of increasing your psychic ability. We all have spiritual teachers who step in when needed most. You will become familiar with them and learn to trust in their wisdom and guidance. I could not get through one day of my life without my guides and teachers to instruct me.
There will be times when you want to give up or feel nothing is happening. Don't abandon the process. Don't seek it like you would a cooking lesson or a classroom test. You must surrender to self. Learn to let go and let the higher levels direct you.  This is an instinctive source and must be used for your self-development and the opening of your senses.
May your inner self shine and your path be lit with the blessings from the higher levels.
About The Author: Mary has perfected her psychic talents since the age of three and has helped thousands in her forty-four years of service. She receives both direct and symbolic messages to her inner eye and works extensively with automatic writing to convey clear and precise messages to her clients. She enjoys a loyal following in her community, in California, and has helped hundreds there to find lost items, communicate with pets, and contact loved ones on the other side. It's both her privilege and passion to serve everyone she can. If you're eager to receive Mary's accurate inner eye messages, you can contact her at: PsychicAccess.com.