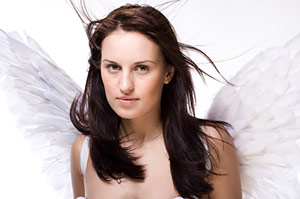 This is the second article in a series designed to assist you in opening to a more personal and active relationship with the Archangels.
While the Archangels I reference are used in other authors' materials and teachings, the information reported in these articles are unique to my experiences with them as part of my clients' Spirit Teams, as well as my own interactions with them.
To learn tips and techniques to connect more efficiently with any of these loving and generous beings, I invite you to read my previous articles titled, "How to Improve Angelic Communication" and "Working with Your Angels."
Your angels will lift you when you're feeling low, and show you that up is the only way to go ~ Mary Jac
Archangel Raphael
Archangel Raphael is surrounded by a beautiful green glow. Often times this is all I see and feel from him, as the green glow has a warm and soothing quality to it. Raphael is the healing Archangel and he is wonderful in healing body, mind and spirit.
Raphael tells me that when you call him to you and take a deep breath that you actually breathe in molecules of his essence, which then heals you from the inside out on a cellular level. He is very emphatic about this "technology" that he has available to heal your every need in this manner. It enables him to reprogram your cells with Light and elicits profound and deep healings, and encourages you to try it with problems big and small.
Raphael states that consistency is the key, though, so while a sniffle may be "cured" in one session, something that has been embedded in your cellular memory for longer will require multiple treatment sessions with him. So keep going. Don't become frustrated if a situation doesn't resolve itself over night. You never know when the balance will tip in your favor and the energy can be released once and for all.
When all hope seems lost and your life's in disarray, just call on your Angel, who will light your way! ~ Raphaelle
Archangel Uriel
Archangel Uriel feels like a loving grandfather. When I feel his presence around a client it signals to me that a "heart-to-heart" about life is in order. He shares with me that he seeks to gently guide his "ward" to their answers rather than simply telling them the answer. He provides insights, which lead to circumstances which leads to understanding the lesson on a deep and visceral level, rather than simply on an intellectual level.
If you are struggling in your life, Uriel is here to be your light in the dark. Watch for his cues and loving guidance to help you shift from running in circles towards finding the path to healing, closure and understanding.
Archangel Azriel
Archangel Azriel is often referred to as the "Angel of Death" in that he supports those who have recently lost a loved one. However, more and more frequently I am also seeing Azriel around those who are going through any kind of transitions or changes in their lives. He tells me he is also available to support those grieving the loss of a romantic relationship, a job, failed business or financial loss.
Azriel's main focus is on the release of emotions associated with grief and letting go, so that that the individual can learn the lessons and move more rapidly into joy, abundance and the next level of their lives here on Planet Earth.
In the next part of this series on the Archangels you will be introduced to Archangels Michael, Gabriel and Jophiel.

PsychicAccess.com


Megan supports people as they make positive, life-affirming change. Using her holistic toolbox of Yoga, Reiki and Readings, she'll provide you with the catalyst and skills needed to maintain the changes you make, long beyond your work together. A lifelong clairvoyant, clairsentient and student of the Mystic, she began her private practice after the miraculous healing and reawakening she experienced working with the modalities she now lovingly refers to as her Toolbox. Megan is an Angel Therapy Practitioner©, a Reiki Master, Atlantean Healing Master® and a certified Yoga instructor. Get a reading with Megan at