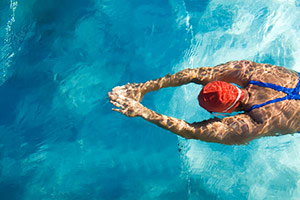 Determination and athletic ability are symbolized by the archetype of Mars the warrior. He is the motivating force through which we feel compelled to act – nothing can stop him. This trait is perfectly represented in the achievements of endurance swimmer Diana Nyad.
Recently the 64 year old Nyad successfully achieved her lifelong goal of swimming from Cuba to Florida. What an amazing achievement and what a fantastic example of the strength and physical fitness possible at the age of 64!
Michel Gauqelin set out many years ago to disprove the validity of astrology only to become one of its greatest proponents. His work proved that Mars was very prominent in the chart of athletes and this is certainly the case in Nyad's natal chart.
This journey has always been about reaching your own other shore no matter what it is, and that dream continues ~ Diana Nyad
Nyad first attempted this treacherous swim at 38 years old. She then tried twice in 2011, and again last year. But this year she did it and the planets were behind her! At the time her progressed Mars was on top of her natal sun in the determined sign of Leo no less. This gave her the sheer strength and stamina to succeed.
The transiting Sun on that memorable day was also on top her natal Saturn, indicating prominence and achievement through nothing other than hard work. The transiting Moon was also right on top of her natal Moon at 2pm Eastern Time as she arrived in Key West, shooting to fame right at the mid-heaven of her chart (the point of recognition and career).
Neptune (ruler of the ocean) was progressed onto her chart's part of fortune and the transiting mid-heaven (public attention) was right on top of her solid and determined Mercury (intellect) in the hard working sign of Virgo!
Everything really is described and predicted by the planets.
After her triumph Nyad said, "I have got three messages: One is we should never ever give up. Two is you never are too old to chase your dreams. Three is it looks like a solitary sport, but it's a team."


Get a reading from Steve at PsychicAccess.com


Born a medium, Steve is a member of the Spiritualist's National Union and a certified Angel Therapy Practitioner®. He has given public and private readings since childhood and has studied mediumship all of his life. Steve has amazed clients around the world with the accuracy of his mediumship and psychic ability. His private readings provide inspiring evidence from the spirit world combined with empowering spiritual guidance. One of Steve's greatest passions is helping people understand their personalities, life purposes, and greatest natural talents in order to define their dreams and create the future. Steve believes that we each have a unique life purpose combined with an innate set of talents and opportunities to make the world a better place. He is an avid believer in the law of attraction, the power of the subconscious mind and our ability to create whatever we choose.