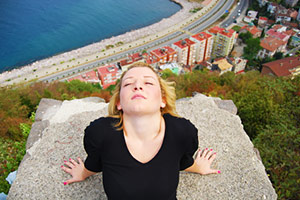 It has been said that the longest journey is from the head to the heart. When we follow our path, we face our most important issues in each stage of life, and we learn to grow through them. Our own unique path is the way to find ourselves and those things in our life that brings about satisfaction and fulfillment within.
Ordinarily, we are only partially aware of the ideas and feelings within ourselves. The other portion lies hidden from us. But to live whole, healthy and full lives we need to be able to understand and live in harmony with the inner, as well as the outer world. Our thoughts, emotions and actions must become congruent with our passion and purpose.
But to explore that depth of our soul sometimes seems remote and usually inaccessible for examination by conventional means. The language we use is new in the epochs of time, where the soul is eternal, and uses the language of symbols and images.
The only journey is the journey within ~ Rainer Maria Rilke
The psychoanalyst Carl Jung said, we need to establish the basis for a dialogue with inner self by using the symbols and images of our unconscious or spiritual self. These symbols can then be recognized and responded to by our conscious mind.
Thus through the use of myths, symbols, and images it is possible to get a glimpse of the secrets from within which silently influence our lives.
The journey of myth, fable and metaphors gives us a way of looking at our lives through various mirrors. We can see things about ourselves in a detached manner that allows us to evaluate and gain perspective and insights to real-life questions. this allows us to adjust our blueprint of life to align with a reality that brings joy and abundance.
About The Author: Donald is a spiritual guide/healer, living in the Fraser Valley in British Columbia, and has over thirty years of experience. He has the uncanny ability to tap into the collective consciousness and channel messages to others in a safe environment. Past Life regression is a specialty, and he can be found front and center of many a paranormal investigation. Connecting with others comes as easy as breathing, and he helps clients resolve emotional, spiritual and physical roadblocks. To be uniquely guided to all the answers you seek, you can find Donald at: PsychicAccess.com.