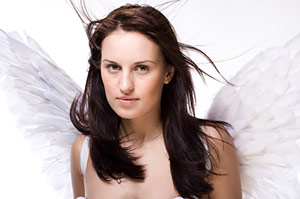 When we are working with Spirit it really does not matter who we call upon for help, as long as we set the intention to work with the Highest Light Beings available to us. When we are truly seeking assistance, all in Heaven hear our call and respond.
We could call on Archangel Michael, or we could call on Bob the Angel; the names are really inconsequential. What matters is the prayer in our heart. However, sometimes it is nice to have what I call a "go to guide" to call upon when you are speaking to Spirit. This is a guide whose energy you know, trust and feel safe with.
In alignment with this the Archangels have asked that I compile this multi-part article on the various Archangels and their areas of specialty. The aim is to guide towards finding a trusted ally when you are working on certain issues. It will help you to find your "go to guide" who is familiar with that aspect of life.
Even when muddy your wings sparkle bright wonders that heal broken worlds ~ Aberjhani
As a caveat, I will be writing about the Archangels I have personal experience with, whether as part of a client's or my own Spirit Team. There are certainly other Archangels out there and you are welcome to explore them all.
When working with any new guide I recommend reading my previous article on Opening to Divine Guidance to learn techniques to ensure you are speaking with the Highest Available Guide for you.
Each Archangel is also available to assist in more than what is written here. This is merely a jumping off point to get you started in working with these generous and loving beings.
Archangel Ariel
Ariel for me has a very 'Earth Mama' energy. She smells and feels like freshly tilled soil, or the air after it rains. She works with the fairy realm and I often see her around clients who work in a creative field, especially music.
Archangel Ariel is wonderful to call on if you are working with the Earth, exploring creative projects or need to manifest some quick cash. She tells me she is passionate about working with individuals who desire healthy boundaries in relationships and would like to find ways to stand up for themselves that don't compromise their sensitive nature, or force them to be confrontational or aggressive.
Ariel is also wonderful if you feel like you got dropped off on this planet without a rulebook and struggle to make sense of people and life in general. She can help you understand how to manifest here, and better flow with the energies of this Earth School realm.
When angels visit us, we do not hear the rustle of wings, nor feel the feathery touch of the breast of a dove; but we know their presence by the love they create in our hearts ~ Mary Baker Eddy
Archangel Raziel
Raziel has a sorcerer or wizard type energy. Often times he can be confused with an Ascended Master, because he has a similar energy. When he appears around a client I know that they are working on remembering how to manifest from Source energy all that they desire and to create a greater connection to Source energy.
Archangel Raziel is wonderful to call on if you desire an increased connection with your Higher Self. He tells me that he loves to work with individuals who are seeking Divine Truth and Unity Consciousness. He is not for the faint of heart, so be sure to call on him only if you are seeking real change and understanding.
Archangel Metatron
Metatron appears to me like a cartoon version of the famous psychologist Sigmund Freud. His energy and demeanor is very direct and to the point. Call upon Metatron if you desire some heavy duty metaphysically-inclined self-analysis. He will strip the situation down to the nuts and bolts so that you can see clearly your role in your current circumstance. This will open up new possibilities and opportunities to change the dynamics.
I don't often see Metatron, but when I do I know it means serious transformation of a personal nature is afoot. You know you are working with Archangel Metatron if you see the number "5" in sequences of four repeatedly. When this happens be sure to take an inward approach to the situation you want to resolve and see what you can change in yourself first, before looking to the external. This includes removing limiting beliefs and memories and opening to a new approach to old problems.
In Part 2 of this article, you will be introduced to Archangels Raphael, Uriel and Azriel.

PsychicAccess.com


Megan supports people as they make positive, life-affirming change. Using her holistic toolbox of Yoga, Reiki and Readings, she'll provide you with the catalyst and skills needed to maintain the changes you make, long beyond your work together. A lifelong clairvoyant, clairsentient and student of the Mystic, she began her private practice after the miraculous healing and reawakening she experienced working with the modalities she now lovingly refers to as her Toolbox. Megan is an Angel Therapy Practitioner©, a Reiki Master, Atlantean Healing Master® and a certified Yoga instructor. Get a reading with Megan at