The Soul Transcends The Speed Of Light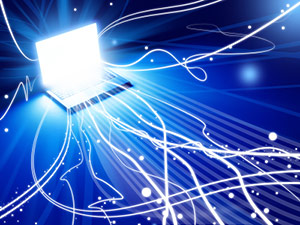 A wonderful friend's father passed to spirit recently.  Obviously, my friend was devastated. I wanted to be a source of support to the best of my ability, and felt honored and privileged when she asked me to speak at the funeral service.
On that Friday morning I awoke at 5am. I was nervous. Unable to get back to sleep, I lay in bed with my eyes closed and decided to meditate upon my upcoming speech. I told my guides that I am sure that my friend and her family would just want to know that this wonderful gentleman was okay.
All of a sudden, my computer started up by itself on the other side of the room. A woman's voice distinctly stated, "I just need to know that you are okay, Dad." A man's voice replied, "Of course I'm alright my love. I am eager to get on with it." Then my computer shut itself down.
Life and death are one, even as the river and the sea are one.In the depths of your hopes and desires lies your silent knowledge of the beyond; and like seeds dreaming beneath the snow, your heart dreams of spring. Trust the dreams, for in them is hidden the gate to eternity ~ Kahlil Gibran
I was not shocked or surprised, since this kind of thing has happened to me before. Instead I just smiled and drifted back off to sleep. Spirit had determined the content of my speech. You see, there really is no death.  The physical body expires. It has to, because it functions below the speed of light on the physical plane. But the soul transcends the speed of light and continues its journey.
I love these words from Plato: "The soul takes flight to the world that is invisible but there arriving she is sure of bliss and forever dwells in paradise."
About The Author: Steve

Born a medium, Steve is a member of the Spiritualist's National Union and a certified Angel Therapy Practitioner®. He has given public and private readings since childhood and has studied mediumship all of his life. Steve has amazed clients around the world with the accuracy of his mediumship and psychic ability. His private readings provide inspiring evidence from the spirit world combined with empowering spiritual guidance. One of Steve's greatest passions is helping people understand their personalities, life purposes, and greatest natural talents in order to define their dreams and create the future. Steve believes that we each have a unique life purpose combined with an innate set of talents and opportunities to make the world a better place. He is an avid believer in the law of attraction, the power of the subconscious mind and our ability to create whatever we choose.
Get a reading from Steve at PsychicAccess.com


<!div id="networkedblogs_nwidget_logo" style="padding:1px;margin:0px;background-color:#edeff4;text-align:center;height:21px;"><!a href="http://www.networkedblogs.com/" target="_blank" title="NetworkedBlogs"><!img style="border: none;" src="http://static.networkedblogs.com/static/images/logo_small.png" title="NetworkedBlogs"/><!/a><!/div>