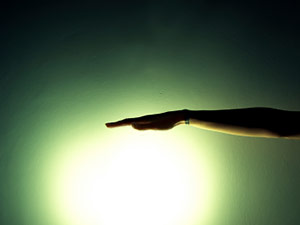 I recently had my energy balanced by a friend. It was so amazing to feel the difference in myself afterward. I didn't even realize that I was so 'junked up' and radiating so little energy.
The beauty of being in tune with yourself is such a gift. It got me thinking how a majority of the people in this world walk around every day with all of this build up of negative energy, and no idea how to release it. Lucky for you, I have a little trick to get you through the day!
Now, keep in mind that this is a surface cleaning, and just a little pick-me-up when things seem a little dark or heavy for you. Wear nice and bright colors for this exercise to ensure your energy flows freely.
Close your eyes and view in your mind's eye a ball of white light. Have it flow in the air in front of your body and let it surround you and move freely and fluid-like for eight minutes. The point of this is to awaken your inner energy and get things spinning again.
The gift of learning to meditate is the greatest gift you can give yourself in this lifetime ~ Sogyal Rinpoche
Other colors coming in during this exercise is a great thing as well, so play with it a little until you feel it just right. Every person is different and will experience a different version of this meditation. It might be fun to do it with a friend and compare your experiences.
Now, as I pointed out before, this is not a complete cleanse, but more of a quick and easy recharge for you. It is good enough to get you through the day. Good luck! Leave a comment below and share your unique meditation results. I love hearing other peoples experiences!
About The Author: Kimberly was first recognized for her remarkable psychic talents at age eleven, and has since gone on to become a leading spiritual counselor and expert relationship advisor, not only in her Danbury, CT community, but around the globe. For over twenty years, she's utilized her talents in spell casting, palmistry, Tarot reading, and aura and chakra cleansing for many celebrated clients, including Anna Nicole Smith! In her spare time, she volunteers at a homeless shelter and runs a recycling drive for the local children's hospital. Kimberly devotes herself completely to every client and will selflessly devote herself to you at: PsychicAccess.com.