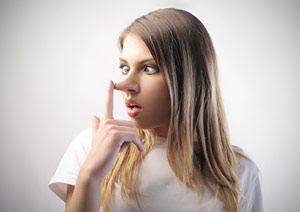 Occasionally, I have clients who call with questions they feel they cannot openly discuss. Perhaps it is due to their family being around, or due to being at work. I have on occasion even had clients 'lie' about their own names. Other common discrepancies include the gender of the person they are interested in, or their sexual orientation. These are all understandable truth omissions, so these are problems I am not concerned with.
What can concern me as a reader is both the wrong name, and questions that test. We do get a portion of callers that are just trying to see if psychics can actually 'do the work'. Some of them also just want to confuse us. This is a very small portion of callers for psychic readings, and not enough to pay real attention to. Yet to those who do omit the truth, here is an example of what may, or may not happen:
A client asks about a man. She omits to say he is married, or she omits to acknowledge another woman. She 'forgets' to tell me they have broken up five years ago. Or she doesn't admit to having abused him, so she 'wonders' why he has left her.
In truth, some of my clients need not feel badly talking about these issues. If they have been shamed, humiliated, abandoned, abused, have abused or have done something they cannot talk about, they should feel free to discuss it openly with their psychic advisor. Should they choose not to, this may greatly skew the reading. If anyone had to call in a 'codename' and ask a 'vaguely associated question' because they want to hide the name of the company they are purchasing, and do not give me specifics once I have laid out the general reading or card spread, they will lose out.
What happens when one lies to the reader? I believe the universe is intelligent and may even obscure the answer. For one, it needs a translator. Yet, I have also seen the cards (or the reading ) chastise the reader for lying, being irresponsible or being abusive. It's difficult for me to put it into context if the client will not admit to this. The cards may even take the stance of 'lying back'.
I know from my reading style that I can see when a client is lying. I try and help within this context. I also know I can only go so far. I see a few dimensions at once when I do my readings, so to put it in the context of 'just not getting the answer right' is flawed when I see the past, present, motives, intentions, outcomes, advice, persons, items, timing and message in a reading – all at once.
I may not be able to help at all, and may actually not give you the full, correct and most helpful answer, but this will often be by your design, the clients omission, and that is something that needs to be remembered by people that don't know how important it is to tell the truth.

PsychicAccess.com.


Carmen's waking dreams have provided accurate glimpses into the future for celebrities as well as political and international figures. Her non-judgmental, Empathic approach, as well as her unique method of Tarot reading, affords her the reputation as a groundbreaker in her field. This European born Canadian is the first online psychic to promote the idea of Empathy and emotional thought transference, and she has written a great deal on the subject. For a comprehensive Intuitive reading that will transform your life, you can find Carmen at