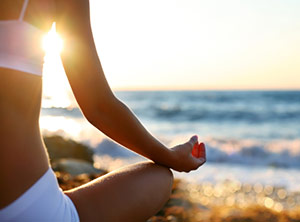 If you are anything like me, the transition between the end of summer and beginning of fall brings many mixed emotions – the kids returning to school, the end of heat waves, a rejuvenated beginning.
But on the other hand, the stress level seems to shoot up at the same time. This past week I've felt as though I was losing it… energy wise. A good friend has shared with me a great meditation to get one's stress level way down almost instantly:
Sit yourself down in a sturdy chair in a quiet space. Place both feet on the ground, with your hands in your lap. Envision in your mind's eye a light source around the base of your feet.
Taking time out each day to relax and renew is essential to living well. ~Judith Hanson LasaterTaking time out each day to relax and renew is essential to living well ~ Judith Hanson Lasater
Now have that light move up at a steady pace throughout your body. Keep it moving and have it burst through the top of your head! Just imagine that the light bursting out is all your stress and worries that have been building up.
This meditation empowered me for a few reasons. It is a very simple way to envision the energies that are moving around you, and it gives you something to do with that energy. Also, I've noticed that the effect of the release of light from your body, differs with your mood at the time.
Try keeping a journal of your experiences, to get to know your body better. It may take you some time to really get the hang of it, but keep at it until you can envision that bright light and feel the energy moving through you.
About The Author: Kimberly was first recognized for her remarkable psychic talents at age eleven, and has since gone on to become a leading spiritual counselor and expert relationship advisor, not only in her Danbury, CT community, but around the globe. For over twenty years, she's utilized her talents in spell casting, palmistry, Tarot reading, and aura and chakra cleansing for many celebrated clients, including Anna Nicole Smith! In her spare time, she volunteers at a homeless shelter and runs a recycling drive for the local children's hospital. Kimberly devotes herself completely to every client and will selflessly devote herself to you at: PsychicAccess.com.