A Very Reluctant Foot In Both Worlds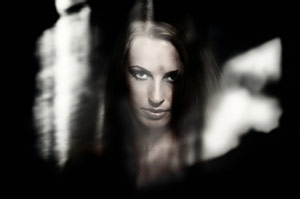 I'm a "psychic". It is a label I find almost offensive, because it's overused, over commercialized, and undervalued. And a lot of people seem to see it as a line of work that should not be considered gainful employment; something that I shouldn't charge for.
The fact is, even the best professional psychic needs to continue researching and studying, because no one knows everything. Every talented psychic has new facets that are constantly evolving, and psychic abilities and skills that are always changing – for the better if they're being used, for the worse if they are ignored. The work itself can be physically taxing and emotionally draining. And there are times when I try to ignore the signs, and then it's even harder on me physically and psychologically.
To have a grievance is to have a purpose in life ~ Alan Coren
A few years ago I started talking to dead people, and can I just say I really hate it! When I expressed this feeling to my mentor, she laughed at me and said it doesn't matter how much I hate it. It doesn't matter how hard I fight (and I do fight) mediumship is the path my life will take. And if I don't listen and learn, they will talk louder, hold the pictures up to me in a way I can't miss the meaning. But I still hate it.
I've been trying to shift back and forth from the other side to my life in this world. The emotions run higher and higher until there is a physical reaction, like an eczema breakout, or a headache or a stroll through the house, while I'm still sleeping. But as soon as I give the message, as soon as I reach a resolution, the physical reactions will stop.
There is a purpose to our lives that each day tugs at our sleeve as an annoying distraction ~ Robert Brault
I feel that at times it's an intrusion. For example, when I'm in the shower, or when I'm having a discussion about cloth diapers versus disposable. Silly, I know, but I want to do it on my own terms. My guides, however, have different ideas. I am aware too that if I stop fighting and just embrace it, if I stop trying to maintain a foot in each world and just shift to the other side, the psychic side, my life would be much easier and I would be more at peace.
I'm grateful I have the mentors I have. I'm grateful for my friends, the ones who 'get' me'; the people who listen to me when I get a message to deliver that I simply don't want to deal with; the ones who listen to me rant and rave and stomp my feet like a kid who isn't getting her way. I'm grateful for the people who will tell me, in a very loving way, that I have to deal with it. I have no choice, it is my life calling.
About The Author: Indigo

Indigo is an Indigo child, her gifts have been handed down through generations, and she has used them since she was a teenager. Using a unique blend of, tarot, astrology, numerology, psychology and clairvoyance, she is able to give you the most information in the shortest time possible to help you find a way to change your situation. She has been a spiritual advisor in her community for 20 years and continues her education, while fostering the gifts she has handed down to her grand-children. You can get a reading from Indigo at PsychicAccess.com.


This site uses Akismet to reduce spam. Learn how your comment data is processed.