Dreaming For Non-Dreamers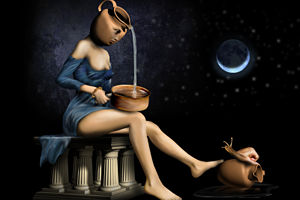 According to dream researchers, a good portion of us dream in neutral colors – so how do we remember color impressions? Another portion of the population, especially men, do not retain their dream impressions. What is a poor soul like this to do? Does this mean that these dream-free people have no capacity for vision; are they 'disadvantaged'?
The statistics are not as good as you think they are. A study on a 1000 remembered dreams recorded by the study participants, approximately only 30% of the population has more than 10 dreams per month. It seems that most of us are left with even less than that. These tests would not have been properly staged in order to record REM activity, but this testing was based on reported dream memories. It's possible that more tests would be needed to determine exactly how long these dreams are, and what constitutes a memory for these dreams and why certain ones are retained.
I get my dreams packed with symbols, colors, and associations. I can lately only admit to perhaps ten per month myself. At times I have even less, yet they have been highly predictive in nature. Apart from certain periods in my life, I would say that I am consistent with at 70 % of the population, with less than three remembered dreams per month, or a handful of lucid dreams per year.
This means if I did not get up in the morning to write them down, I would probably assume I had not dreamed at all. The resulting sixty seconds upon waking up records an impression, and apart from that, it's only about that time frame that you will have to write down anything you recall.
Even if newer studies indicate we dream in color, though I would feel that color is an associated memory, we possibly would remember color by a fraction of a second of a delay. So we may actually remember in color.
So, if you do not have prophetic type revelations upon waking – you may fall into the normal group that just do not record their dreams. I can assure you that most of our dreams feature a collective prophecy to some extent, and that no one person need feel excluded from the collective prophecy, even if you do not remember it!
About The Author: Carmen Miro

Carmen's waking dreams have provided accurate glimpses into the future for celebrities as well as political and international figures. Her non-judgmental, Empathic approach, as well as her unique method of Tarot reading, affords her the reputation as a groundbreaker in her field. This European born Canadian is the first online psychic to promote the idea of Empathy and emotional thought transference, and she has written a great deal on the subject. For a comprehensive Intuitive reading that will transform your life, you can find Carmen at PsychicAccess.com.