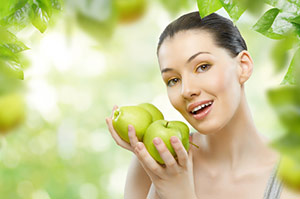 Let us continue with some honest advice regarding improving your health using psychic healing techniques. My suggestion is that you allow your Sprit Guides to assist you. By working as a team, healing energy (your energy and psychic energies) can flow more freely into your body. Your best health may well be the result of unencumbered positive thoughts and actions toward your glowing health.
If you read part one and two of this series of articles on psychic healing, you know that my short answer is, "Yes, you can psychically improve your health." Part one discussed "Who" and part two "What." In this section We will examine "When" you can begin to heal yourself psychically. This is the third aspect of the complex question of the "Who, What, When, Where, Why and How" relationship between psychic energy and health.
If I'd known I was gonna live this long. I'd have taken better care of myself ~ Eubie Blake
The "When" is Entirely Up To You!
Few of us fully appreciate the effect of lifestyle and food choices on our health. Medical doctors remind us to slim down, exercise, and stop smoking, but few mention the enormous effects of nutrition. There are three reasons why. The first is that medical doctors are not taught to appreciate the effects of diet on health.
The second reason is that there is no profit for medical service providers if you grow your own spinach, kale, Swiss chard, or Bibb lettuce. However, one bypass surgery will be profitable to them.
The third reason is most patients do not want to hear that they can get healthy by self-management every time they open their mouths. Patients would rather eat or drink anything they like, and then take a 'magic pill' to recover their health. We tend to believe this is the convenient 21st century solution. However, it is a lie.
Most ills (heart disease, diabetes, cancer, high blood pressure) that come from a lifetime of poor eating habits cannot be cured using a pill, or surgery. However, all of them have consistently been cured by medical doctors who practice sound natural nutritional techniques. Most of these medical doctors also promote unencumbered positive thoughts and actions directed toward your glowing health, i.e. psychic healing techniques.
Many so-called spiritual people, they overeat, drink too much, they smoke and don't exercise. But they do go to church every week and pray 'Please help my arthritis. Please help me bring up my strength, make me young again.'" ~ Jack LaLanne
What are you waiting for?
"When" is today…
Every day that you continue to say, "Oh, I really feel poorly today. I have no energy. The kids are driving me nuts and my spouse is demanding more than I can take," but then do nothing… is another day of health lost.
• Is this an easy path? No, it is a pathway of work, hard work at putting yourself (and your family) first.
• Is this a worthwhile thing to do? Yes, nothing is more valuable than health. Ask a relative or friend who is terminally ill due to their lifestyle choices, if you doubt my word.
• Can I heal myself psychically? Yes, you can reach down into your soul and bring up the will to live a lifestyle of mental joy, glowing physical health, and rewarding spiritual health too.
Ask Divine Energy, as you see that force in your mind's eye, to be with you every time you shop, garden, or eat out away from home. Learn to avoid "just this once" meals loaded with chemicals that will gather on your body, and make you sluggish. Instead, reach for the most natural food possible. As you eat that live food, visualize it healing your body, mind, and soul.
"When," you ask?
"Right now!" is your Spirit Guide's reply.
About The Author: Jacquie Omi is a Master healer of children and animals who resides in a poor indigenous village in Central Mexico. She is a deeply spiritual practitioner and a well educated research scientist who brings her Eastern thought into Western situations. She has been a nonprofit leader since 1986, the president of an educational project since 1991, an Arizona State Certified Teacher (birth ­ grade 12) and a facilitator of businesses since 1986. To attain inner peace and draw positive healing energy into your life, Jacquie can be found at PsychicAccess.com


One Response to "Can I Psychically Improve My Health? – Part 3 of 8"