Karma, Dharma Or Life Lesson?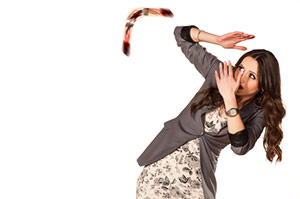 Karma is defined as the sum of our actions which will determine our fate or destiny. I choose to see karma as a reprimand from the Universe. We can see how people who are uncaring or cruel in their words or actions will suffer a similar fate in future.
A good example of this is the fictional character known as Ebenezer Scrooge in A Christmas Carol, the 1843 novel by Charles Dickens. Scrooge was a slave driver, never had a good word for anyone, saw the worst in every situation, whether it benefited him or not. The ghosts who came to visit him in the night showed him what his fate would be because of his thoughts and actions.
There is a destiny that makes us brothers: none goes his way alone; all that we send into the lives of others comes back into our own ~ Edwin Markham
Dharma is defined as the principles that regulate the cosmic order, or purify the souls of human beings. I choose to see dharma as the other side of karma. That's not to say that karma is negative, but dharma is more positive, and the more we strive for the positive, the more we live in the light, the more we align with the Universe, the more dharma we incur. The easiest way to incur dharma is to live your life in a 'pay it forward' sort of way. Do for others just for the sake of doing what is good, not for whatever you think will come to you because of your good works.
Then we have life lessons. I believe that when we choose to be born we contract with deity, spirit guides and certain people to learn certain lessons while we are here in this life. Often the relationship is karmic in nature in the form of a situation in a past life that you need to do over in this lifetime, and most of the people involved now, were involved then.
I've discovered in my years of reading people that we learn the best about ourselves, our limits, our feelings, and our capacity to love while in relationships with others. Whether sibling, child, parent, co-worker or mate, the lesson learned in the relationship will shape the way we deal with others for the rest of this life, and possibly into the next life.
Even chance meetings are the result of karma. Things in life are fated by our previous lives. That even in the smallest events there's no such thing as coincidence ~ Haruki Murakami
There are all types of lessons we come here to learn. Sometimes the results of the actions of one or more person is a lesson for an entire family, for example a suicide. Sometimes the lesson is for a nation or the world, for example the Holocaust. Mostly though, the lesson is ours and almost always involves pulling ourselves out of adversity.
Let's look at Barack Obama as an example. His life as a child was less than idyllic. His father left the family when he was a toddler, and later his mother turned the care of young Barack to her parents. He was one of the handful of African-Americans in his school, something he later said he was acutely aware of. Mr Obama came from very humble beginnings, yet he is now one of the most powerful men in the world.
Now let's look at Jeffery Dahmer. He was born into a family that in his formative years was happy and loving.  He had every opportunity a child could be offered, even though his parents later divorced. Despite having the best of everything he became one of the most notorious serial killers.
Above all I believe that when the lesson is learned it is important to carry it with us. We must use what we learn to better our lives and the lives of the people around us, and hold our heads high.
About The Author: Indigo

Indigo is an Indigo child, her gifts have been handed down through generations, and she has used them since she was a teenager. Using a unique blend of, tarot, astrology, numerology, psychology and clairvoyance, she is able to give you the most information in the shortest time possible to help you find a way to change your situation. She has been a spiritual advisor in her community for 20 years and continues her education, while fostering the gifts she has handed down to her grand-children. You can get a reading from Indigo at PsychicAccess.com.