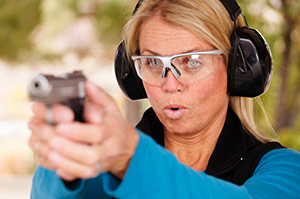 I'm not the gun carrying or hunting type. Far from it. I've been a vegetarian for over 30 years! I have no desire to buy, carry, or own a hand gun.
But, my Guides told me over and over to go take a class at my local shooting range. Several months later, the message was too loud to ignore, so I went to the range. Oddly, that was the one day a week that the range was closed. Go figure.
Months went by, but the nagging persisted.
Then I had an experience of not following guidance, with a negative outcome. Now, it could have been much worse, but it served as a warning. One day, while sharing this with a client, I realized that I had still not listened to the calling of the gun class. I then jumped into my car and drove directly to the range.
There is something in every one of you that waits and listens for the sound of the genuine in yourself. It is the only true guide you will ever have. And if you cannot hear it, you will all of your life spend your days on the ends of strings that somebody else pulls ~ Howard Thurman
When I entered the range it was eerie, filled to the max with guns, and every employee was "packing" something. Within moments I was being asked if I needed help. The irony did not escape me. I couldn't really tell them that the voices in my head were telling me that I needed to learn how to shoot a gun. I also couldn't honestly say that I wanted to learn to shoot. I had no idea why I was there, but there I was.
Settling with "I think I need to learn how to shoot a gun" the man behind the counter looked surprised. "That's interesting" he said. It seems that just that morning (in a meeting) they had discussed creating just such a class. "That's the one I need" I said, "sign me up".

Many Lives, Many Masters, and has given over a thousand accurate readings, including one to a very famous Hayhouse author. If you want to KNOW MORE, you can contact Linda at PsychicAccess.com


Linda, a globe trotting Medium/Channel, is an int'l Clairvoyant, Clairaudient & Empathic reader, who teaches Tarot locally in the Seattle area and has been spotted at numerous psychic fairs. Linda has studied under the very best psychics, including James Van Praag, John Holland, and Dr. Brian Weiss, author of