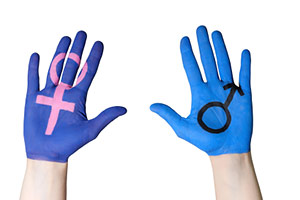 Most people are looking for love, respect, companionship, understanding, and a non-judgmental partner for the next ten minutes, a lifetime, or something in-between.
How each of us appears on the outside, or physical attractiveness, typically plays a role in our success or failure in finding a mate for the next ten minutes. However, what is going on in the inside is what has the most impact on locating and retaining a lover for a lifetime.
We spend billions of dollars on items to make us appear more attractive to a potential partner, and yet, what is really most influential in the game of love is our sexual orientation and how we express that with a partner.
Heterosexuality is not normal, it's just common ~ Dorothy Parker
Being "different" on the kindergarten playground, at a high school prom, or in a career setting is normally a tremendous social challenge. Is it any wonder that gay men, lesbian women, bisexual men or women, and transgendered men or women (GLBT) often look for a way to join the more traditional roles in society? This extreme step is often a consideration after thoughts of suicide have passed into their mind – a relative has taken a strong stand in opposition to their sexual orientation or a significant coupling or social rejection has occurred.
Have you heard that some people believe that you can "pray the gay away?" How about "letting go of being lesbian?" Or maybe just "bye, bye to bi?" or "train away the trans?"
The experts say something else: United States Surgeon General David Satcher in 2001 issued a report stating: "There is no valid scientific evidence that sexual orientation can be changed."
The American Psychiatric Association (APA) has condemned "psychiatric treatment, such as reparative or conversion therapy which is based upon the assumption that homosexuality per se is a mental disorder or based upon the a priori assumption that the patient should change his or her sexual homosexual orientation."
I am reminded of a colleague who reiterated "all my homosexual patients are quite sick" – to which I finally replied "so are all my heterosexual patients ~ Ernest Van den Haag
The APA further states that, "Ethical practitioners (should) refrain from attempts to change individuals' sexual orientation."
Therefore, call a sympathetic psychic and ask for help finding the right mate, or getting a job where your sexual orientation is not cause for concern, but do not ask to change how you were created. Your sexual orientation, like your psychic development, began in our mother's womb. Science has proven beyond any shadow of a doubt that when different hormones entered your placenta your sexual orientation was decided. Therefore, nothing about that can be altered later in life. Trying to do so will cause excess frustration and lowered self-esteem.
Love who you are and others will also love you. Embrace the joys of sharing a healthy sexual relationship with someone who knows and respects your natural preferences. Thank God, Divine Spirit, or whatever aspect of respected energy you prefer, for making you perfectly perfect. Regardless of what others may say, imply, suggest, or how they view you, how you developed was part of a plan to make you all that you needed to be. Like someone with a disability or a great talent, we are each unique. Love your unique you!
About The Author: Jacquie Omi is a Master healer of children and animals who resides in a poor indigenous village in Central Mexico. She is a deeply spiritual practitioner and a well educated research scientist who brings her Eastern thought into Western situations. She has been a nonprofit leader since 1986, the president of an educational project since 1991, an Arizona State Certified Teacher (birth ­ grade 12) and a facilitator of businesses since 1986. To attain inner peace and draw positive healing energy into your life, Jacquie can be found at PsychicAccess.com