The Joy Of Giving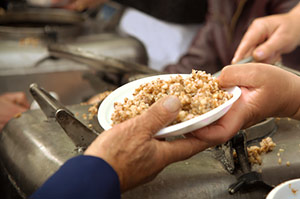 I recently asked a psychic friend of mine to do some healing work for me outside the boundaries of our usual readings. Instead of paying him, he suggested that I donate to animal welfare foundations of my choice.
I immediately picked up on this, as it's a cause near to my own heart. I researched some sites and made donations. As a result, I felt unexpected joy and elevated mood! Sure, I expected to feel good, but was unprepared for the profound positive effect it had on me. It was a way of expressing gratitude for the abundance in my life and sharing this where needed.
I'm not a wealthy person measured in (US) dollars. But I, and many of us, have the basic resources for taking care of ourselves and to help out with the needs of others. Even if you are unemployed, consider volunteer work to help those less fortunate. It's more constructive than sitting at home with nothing to do. In times of trouble, doubt, fear and worry, giving to others is a great way to boost your confidence and forget about personal "stuff" for awhile.
And so, dear readers, I want to pass on to you this marvelous way of helping and feeling extreme joy helping the helpless. I've followed through and daily "click for food" on two websites that have matching donors providing the food. In addition, monthly I donate $10-$20 and so far have helped rescued marine mammals and contributed to shelter kitties who need vaccinations.
In the past I contributed to local efforts sponsored by radio stations for Japan post-tsunami, New Orleans floods, and Haiti earthquake relief. In 2011, I owned a small business on the East Coast of the United States and donated 10% of proceeds from sales to the 9/11 fund. There are many ways to make a small difference.
Do you have a cause that is meaningful to you? Whatever you can give of your time or money will come back tenfold and provide much-needed support for those in need. Is there a cause you feel passionate about? Would you donate a car to an organization that provides job retraining in automotive repair? Some causes that may resonate with you may include:
Battered women and children
Animals
Homeless people
UNICEF
Doctors without Borders
National parks conservancy
Veterans
St. Jude Children's Hospital
Disadvantaged youth
Cancer research
Red Cross
Habitat for Humanity
Food banks
Heart Association
Whatever your choice, be sure to research the legitimacy and credentials of the organization and beware of scams or high administrative costs.
About The Author: Dianna

As a conduit to Spirit since birth Dianna provides channeled information from her Guides, Archangels, Ascended Masters & Animal Spirits. During readings, information comes to her through telepathy, empathy, visual images and physical sensations. She additionally uses Automatic Writing for very specific details and timing, Tarot and the Lenormand Cards. Dianna's specialties are providing you with remarkably accurate answers to your questions using her psychic consciousness to assist you in reaching new and rewarding goals. A Libra/Aquarius rising with three grand trines in her chart, Dianna has chosen to use her psychic gifts and Reiki Healing Energy to help others, providing practical answers to life's questions plus healing and clearing blockages. You can get a psychic reading from Dianna at
PsychicAccess.com.