10 Ways To Honor Yourself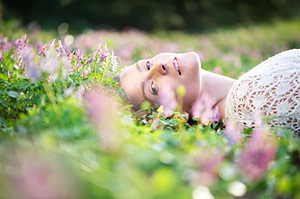 At times we all focus on our jobs or other people to the point of self-neglect. Sure, you may shower, style your hair and eat, but what about replenishing your heart and soul? At some point in life, you've probably felt burnt-out, or fatigued beyond sleep. If you think back to that time, what were you doing to take care of yourself?
To honor oneself is to show love, tenderness and sensitivity to your own needs. What do you really enjoy, no matter how practical or impractical? What replenishes your energy and makes you feel rejuvenated? We tend to the needs of others and forget about ourselves. But when we're depleted, what is there left to give?
When you recover or discover something that nourishes your soul and brings joy, care enough about yourself to make room for it in your life ~ Jean Shinoda Bolen
Giving to others, loving others, caring for others begins with caring for yourself. You have love and energy to give when you feel it within yourself. Here are some suggestions for honoring yourself:
1. Swim, walk, jog, hike—get some physical exercise.
2. Change the mental channel. If you don't like what's on TV, you change the channel, right? Calibrate your thinking to more pleasurable activities.
3. Eat foods that are healthy for you and drink lots of water.
4. Go to the doctor if you haven't had a yearly check-up.
5. Open all the windows and air out your home.
6. Move the furniture around.
7. Laugh with friends. Laugh aloud at funny stories or movies.
8. Have fun.
9. Go to one place you've always wanted to see.
10. ………………….(Fill In).………………….
Add to this list. Take care of yourself first and be aware if your emotional and physical tank gets below half full. If you want inspiration and help changing the channel, I'd love to read for you on PsychicAccess.com.
About The Author: Dianna

As a conduit to Spirit since birth Dianna provides channeled information from her Guides, Archangels, Ascended Masters & Animal Spirits. During readings, information comes to her through telepathy, empathy, visual images and physical sensations. She additionally uses Automatic Writing for very specific details and timing, Tarot and the Lenormand Cards. Dianna's specialties are providing you with remarkably accurate answers to your questions using her psychic consciousness to assist you in reaching new and rewarding goals. A Libra/Aquarius rising with three grand trines in her chart, Dianna has chosen to use her psychic gifts and Reiki Healing Energy to help others, providing practical answers to life's questions plus healing and clearing blockages. You can get a psychic reading from Dianna at
PsychicAccess.com.