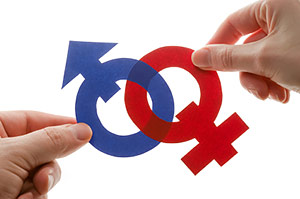 Does sex reassignment change the psyche? In my view the short answer is no, but when discussing transgender challenges and coping strategies there are no short, or easy answers.
Warrior Princess is a new memoir recently published by Kristin Beck. She is the first Navy Seal to have complete sexual reassignment surgery from male to female. I have not read the book, but I have listened to her comments. She clearly explains that her emotions have never changed, she is the same person in her soul that she has always been. One comment about the book by Naomi R. Ceder, someone who has also had sexual reassignment surgery, really hit a nerve with me: "….the story (Warrior Princess) and basic feelings were so familiar to me – the dysphoria, the emotional detachment as coping mechanism, the fear of losing everything, the rejection by conservative family, the feeling that there was no way out except for death."
In trans women's eyes, I see a wisdom that can only come from having to fight for your right to be recognized as female, a raw strength that only comes fro unabashedly asserting your right to be feminine in an inhospitable world ~ Julia Serano
My own heart stopped. No, I am not transgendered, but for years my thoughts were identical – dying seemed the only way out of a complex life struggle. Having such intense emotions leaves a permanent emotional scar. Such an experience also leaves deep empathy; I felt the same. Therefore, I am certain that, in my case, becoming a minister and a specialist in emotional and behavioral disorders was a direct result of my experiencing the same helpless feelings during childhood. Fortunately, due to circumstances beyond my control, those feelings did not follow me into adulthood.
My 6'1" mother married my 5'7" father to give him what became a mantra: "Six tall sons." Six years into the marriage, a tall daughter was born – me. Eighteen months later, a perfectly healthy looking son was born about six weeks late. In 1949, he lived only four days. My mother was Rh-negative. At that time, giving total transfusions at birth was not an alternative to death. Therefore, the older I got the more I realized how much my mother hated me, blamed me for being born first, and physically and emotionally abused me in horrid ways that only Dave Pelzer, author of A Child Called It, can appreciate.
While railing against the manufactured prerequisites of womanhood or manhood, we need to avoid manufacturing our own prerequisites. The non-operative journey and the objection to it illustrate just one area in which we need to open our thinking to other journeys while expecting that others respect our own ~ Kate Bornstein
I prayed night and day that God would make me a boy. Unlike Kristin (as Chris) Beck, who made a career in her birth gender, I did everything male; the gender that I was not born into. As a Navy Seal, she was deployed 13 times, fought seven combat deployments and won the Purple Heart and the Bronze Star. Instead, I played football, high jumped, broad jumped, and swam. I was also good at kickball. I fished beside my father every morning at 4am, made my own stilts and walked on them all over the neighborhood, or used a pogo stick to get around. I gathered every insect and created what others called "the boy's room" in our home. My friends were all boys, as was my dress, and my outlook.
Oddly, I was raped, impregnated, and sent to a nunnery at age 15. I found my female side there. Gender confusion guided me to marry a gay male. Therefore, I have never lost my understanding and compassion for GLBT challenges.
If you are GLBT, be sure to contact a psychic, like myself, who can understand a little of the struggles you face. Empathy is the ability to understand because you have "been there." I was on the fringes of gender confusion as a child. As an adult, I lived for nearly a decade as the wife of a gay male. My compassion comes from first hand experiences and knowledge.
About The Author: Jacquie Omi is a Master healer of children and animals who resides in a poor indigenous village in Central Mexico. She is a deeply spiritual practitioner and a well educated research scientist who brings her Eastern thought into Western situations. She has been a nonprofit leader since 1986, the president of an educational project since 1991, an Arizona State Certified Teacher (birth ­ grade 12) and a facilitator of businesses since 1986. To attain inner peace and draw positive healing energy into your life, Jacquie can be found at PsychicAccess.com