Ways To Identify A Soulmate Connection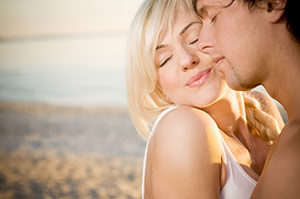 Soulmate relationships are the most fulfilling relationships we can enter into. Until recently, finding your soulmate has been extremely rare, but today with so many spiritual awakenings taking place all over the world, and with the support of new communication technologies, we see more and more soulmates finding each other.
When soulmates come together the intensity can be so overwhelming that many find they are not ready for this type of relationship. It will frighten some and they will turn away from it. It being more of a spiritual connection than physical, people do not always understand or know how to handle it. The physical connection can still be there, but can be overshadowed by the spiritual connection.
Soulmates tend to find each other during their respective pursuits of their soul missions. Creating a soulmate could be seen as a spiritual reward that we give ourselves, after pursuing many soul contracts rife with discord ~ Linda Brady
I have people asking me, "Is this my soulmate?" The best answer I can give is: when you find your soulmate you will not have to ask anyone that question. You will know, because it is unlike any other relationship you have ever had.
You will feel an attraction to the other that is stronger than anything you have ever felt. When you are with this person everything else around you will cease to exist. There is often a feeling that you have met this person before. You may have dreamed about this person in the past. You may find that you tend to finish each other's sentences.
When you meet your soulmate, you need to clear the baggage from your past. This can be emotional or physical baggage. There cannot be anything that may come between you. Emotional baggage can be as destructive as physical baggage. Let go of the past and concentrate your energy on the present, and the future. That will clear the way for a soulmate connection to thrive.
Not everyone will meet their soul mate in this lifetime. Yes, you can fall in love and be happy with someone other than your soulmate. This happens more often than not. But if you are one of the lucky ones, and that special person comes along and sweeps you off your feet, it is an experience like no other.
About The Author: Lani

Lani is a third generation psychic, who inherited her gifts from her mother and grandmother. In addition to her skills as a clairvoyant and dream interpreter, she is a natural born empath, and can feel what others feel. She can feel your difficulties and immediately pinpoint your dilemma. Through this gift, she can accurately guide you to make the right decisions that will improve your future. Get a psychic reading with Lani now at PsychicAccess.com