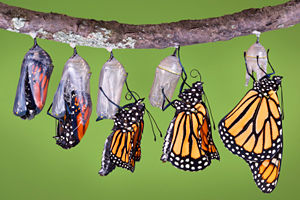 It's my experience that most people are resistant to change. In the extreme I have friends I have known for more than 30 years now, and I could walk into their homes today and know where everything is placed. I could walk in blindfolded and head directly towards the sofa to turn on a lamp. For some of us sameness can be predictable and engender security, and be very comfortable.
However, whether it is small or large, expected or unexpected, the only constant in life is change. The success of changes you make depends upon your beliefs. If the change is sudden, like loss of a loved one, you'll go through stages of acceptance beginning with denial, anger, lonesomeness, acceptance, and moving on to begin the next stage of life.
To exist is to change, to change is to mature, to mature is to go on creating oneself endlessly ~ Henri Bergson
When change happens to you, it's normal to feel resistance at first. As time goes on, you can redirect your thoughts to fresh experiences you may bring into your life. If the change is gradual, like planning a wedding or moving, there's more time for adjusting to the change.
A negative change I recently experienced was the death of my cat. While he was in renal failure, I attended pet loss support groups at the local SPCA. By the time he passed, I'd done a lot of emotional grieving. I then only had to become accustomed to his physical absence and the long rides in the Jeep that he always enjoyed so much.
If you expect as a fact of life that things will change, then change will come more easily. I learned this when I bought my first house in San Francisco. From the second floor I could see clear across the city to the Pacific Ocean and Bay Bridge.
Life is a series of natural and spontaneous changes. Don't resist them; that only creates sorrow. Let reality be reality. Let things flow naturally forward in whatever way they like ~ Lao Tzu
But shortly after I settled in, a distant neighbor built a top-level addition, and with it obscured the view I'd come to cherish. The life lesson I took away from this experience is that change is part of life, and the only way to make the best of unwanted change is acceptance – by rolling with it. Then, find a path that will be rewarding; do what you love to do and you'll be rewarded with positive changes!
If you're facing changes in life, I'd love to read for you on PsychicAccess.com and explore the possibilities that await you.


PsychicAccess.com.


As a conduit to Spirit since birth Dianna provides channeled information from her Guides, Archangels, Ascended Masters & Animal Spirits. During readings, information comes to her through telepathy, empathy, visual images and physical sensations. She additionally uses Automatic Writing for very specific details and timing, Tarot and the Lenormand Cards. Dianna's specialties are providing you with remarkably accurate answers to your questions using her psychic consciousness to assist you in reaching new and rewarding goals. A Libra/Aquarius rising with three grand trines in her chart, Dianna has chosen to use her psychic gifts and Reiki Healing Energy to help others, providing practical answers to life's questions plus healing and clearing blockages. You can get a psychic reading from Dianna at