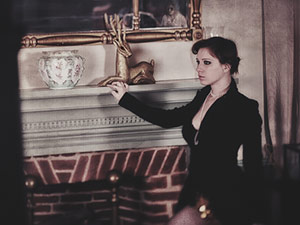 Recently I was called upon by the East Ventura Paranormal Society (EVPS) to go on a nightly vigil to the Glen Tavern Inn in Santa Paula, California. Howard and Barbara, the founders of the group, have a lot of experience in exploring the paranormal up and down the California coast. They were very welcoming to me and I was pleased at the invitation. Little did I know at the time the experience would follow me for months afterward.
The Glen Tavern Inn is a Tudor-style Inn and Tavern that was originally built in the 1880's. At the time it served as a resort for wealthy travelers to get out of Los Angeles. Here they could find refuge in a small town atmosphere, enjoy the natural hot springs, and indulge in the natural abundance Ventura County was famous for. The venue attracted a large following, but like most inns and hotels of the day it had its share of tragedies and scandals.
'I don't believe in ghosts,' I said, faintly. 'Some people can't see the color red. That doesn't mean it isn't there,' she replied ~ Sue Grafton
I arrived at the Inn at 7:00 pm to meet the EVPS, and was immediately overwhelmed by the smell of smoke. It was cloying, but I managed not to give in to the feeling and the sense of smell, until I made a mild comment to the manager when getting my key to my room. I told him it had the smell of an old fireplace or some smoky atmosphere. He explained to me the hotel had burnt to the ground in 1922 and a maid and her young son had died in the blaze.
Feeling uncomfortable, I settled in and quickly rejoined the group in the lobby. It was beautiful, with old-fashioned furnishings from the early 1900's. We said a quick prayer and set out to explore all three floors for paranormal activity. I stayed in the background, and was astonished when I felt a touch on the back of my neck! I turned and saw a woman in a long white dress with a black apron. I could see through her and I asked her name. She responded, "Anna." She pointed to the door of Room 23 and then vanished.
The group was moving on to a room where a gentleman had died from smoking a cigar in his bed, and as I walked in I noticed a lot of their electronic equipment going off. Howard suggested we sit in a circle and have an Electronic Voice Phenomena (EVP) session. I quickly picked up on a form standing in the corner next to the window. The figure of a man very pale, dressed in a suit and string tie and the only thing I heard was, "Get out!"  What was great was we all heard it.
Ghosts could walk freely tonight, without fear of the disbelief of men; for this night was haunted, and it would be an insensitive man who did not know it ~ John Steinbeck
We honored his request and left the room. The night was long and tiring and we all disbanded at about 3:00 am. When I returned to my room I fell into bed and started drifting off. Then I could hear the faint echoes of a child calling for his mother. Tired as I was, I said a prayer for him and his mother. They were not free of this inn and had been around a long time.
These were not and have not been the only spirits I have encountered. A lot of people who have passed come to me and sometimes I marvel at all the people I meet and the people who follow them. We have a dimension all around us of spiritual beings that need to be acknowledged. I loved the experience and hope to go on another expedition with the EVPS. I'm just waiting to be invited.
If you ever find yourself in the small town of Santa Paula, California, visit the Glen Tavern Inn. Stroll around and feel the past sweep you up in the grandeur of the day and the feeling that life was simpler back then. Bow your head at passersby and I know you'll go away with a smile.
About The Author: Mary has perfected her psychic talents since the age of three and has helped thousands in her forty-four years of service. She receives both direct and symbolic messages to her inner eye and works extensively with automatic writing to convey clear and precise messages to her clients. She enjoys a loyal following in her community, in California, and has helped hundreds there to find lost items, communicate with pets, and contact loved ones on the other side. It's both her privilege and passion to serve everyone she can. If you're eager to receive Mary's accurate inner eye messages, you can contact her at: PsychicAccess.com.