Exceptional Evidence From Spirit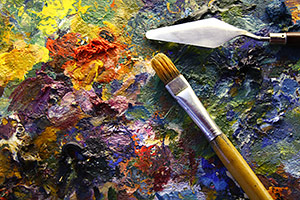 Stanislav Grof's book, When the Impossible Happens, includes a chapter about Luiz Antonio Gasparetto, a psychologist from Brazil who is able to enter a trance state and paint in the style of a wide range of famous painters.
Masters like Monet, Picasso, Rembrandt, da Vinci, Modigliani, Manet, van Gogh, and Gauguin are just some of the famous painters that he channels. As well as painting exact replicas of these artists' known works, he paints "new motifs rendered in easily recognizable styles of individual artists." Dr. Grof describes how they turned off all the lights except for one small red light over the paper so that Gasparetto couldn't distinguish color. At times Gasparetto would paint two different paintings together, and he even did one upside down under the table with his right foot.
The most beautiful experience we can have is the mysterious – the fundamental emotion which stands at the cradle of true art and true science ~ Albert Einstein
Loyd Auerbach who was present at one of the demonstrations writes: "The climax of the demonstration was when he did four paintings at once: one with each hand, one with each bare foot (these being done under the table at which he was seated), while his eyes were closed and he carried on a conversation. Each of the four paintings was by a different spirit artist.
I remember once meditating and asking my guides for assistance with a project. Hearing the response "who would you like to help you?", I laughed and jokingly answered "Leonardo da Vinci please." Strangely enough, just twenty minutes later my cousin came home with a children's figurine of Leonardo da Vinci and said "I don't know why, but I just felt that I should buy this kid's figurine for you!"
Trance Mediumship enables the medium to allow a spirit to channel through their physical body. This is quite a rare and complex form of mediumship, which should not be undertaken without the proper training. However, when undertaken with the right instruction, guidance, and ability, trance mediumship can provide astounding evidence of the soul's continued existence.
About The Author: Steve

Born a medium, Steve is a member of the Spiritualist's National Union and a certified Angel Therapy Practitioner®. He has given public and private readings since childhood and has studied mediumship all of his life. Steve has amazed clients around the world with the accuracy of his mediumship and psychic ability. His private readings provide inspiring evidence from the spirit world combined with empowering spiritual guidance. One of Steve's greatest passions is helping people understand their personalities, life purposes, and greatest natural talents in order to define their dreams and create the future. Steve believes that we each have a unique life purpose combined with an innate set of talents and opportunities to make the world a better place. He is an avid believer in the law of attraction, the power of the subconscious mind and our ability to create whatever we choose.
Get a reading from Steve at PsychicAccess.com


This site uses Akismet to reduce spam. Learn how your comment data is processed.