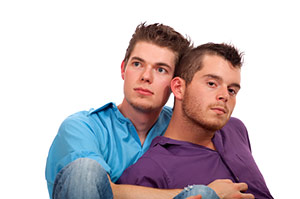 It is helpful during a psychic reading if a caller tells me right away they are looking for help related to a lover of the same sex. Often, callers will be coy, and therefore, waste valuable "on the meter" talk time.
When phone line connections are poor, the words "he" and "she" are very hard to distinguish. Making sure the psychic is absolutely clear about an existing relationship (if that is what the question is about) is very helpful.
That tiny bit of vital information gives me the opportunity to "switch hats" quickly from a more traditional format, as is actually shown in the Tarot cards, to a far more modern, non-judgmental approach to helping seekers. I can then make the gender symbols neutral, or all one sex, in my mind's eye.
Is life not a hundred times too short for us to stifle ourselves ~ Friedrich Nietzsche
Consider that the 78 Tarot cards are revealing to the psychic information that could have to do with anything occurring on our planet. Yes, some people think a psychic is a database, but it does not work that way. No, I cannot tell you the first and last name of the guy you dated last night, his birthday, and the exact day and time he is going to call again.
Therefore, help the psychic help you get the information the Tarot cards, runes, or pendulum are trying to get to you. Obvious situations, like two men raising a teenage girl who needs relationship advice, or two women planning to accept a third roommate, make it really helpful to the psychic to know the roles of everyone in the question. The more you offer the psychic, the more what he or she is seeing makes sense to your specific situation.
You are anonymous, so there is no need to be self-conscious. If you are a female say, "My girlfriend hates that I am bisexual. I am now pregnant. What is she going to say when I tell her?"
Never be bullied into silence.  Never allow yourself to be made a victim.  Accept no one's definition of your life; define yourself.  ~ Harvey Fierstein
Your concerns are totally private. And, more than likely, the crazy mix of information your reader is seeing sets off light bulbs and I might just say, "Actually, she is going to be happy. She knows you would never live with a guy. Besides, she has always wanted to have a baby with you!"
The closing phrase of my byline is "GLBT Welcome." Gay, Lesbian, Bi-sexual, Transgendered, or polyamorous people know they need a psychic who understands issues specific to an alternative, or non-mainstream lifestyle. For 46 years, I have studied the psychological aspects of the personalities that make GLBT unique from more conventional expressions of affection.
If psychic advice is not tailored to a seeker's social reality, the psychic message may be misinterpreted. If you, or someone you love is GLBT, or in a multi-adult parenting lifestyle, be sure to pick a psychic with training and experience working with a diverse lifestyle option.
About The Author: Jacquie Omi is a Master healer of children and animals who resides in a poor indigenous village in Central Mexico. She is a deeply spiritual practitioner and a well educated research scientist who brings her Eastern thought into Western situations. She has been a nonprofit leader since 1986, the president of an educational project since 1991, an Arizona State Certified Teacher (birth ­ grade 12) and a facilitator of businesses since 1986. To attain inner peace and draw positive healing energy into your life, Jacquie can be found at PsychicAccess.com