Spirit Forms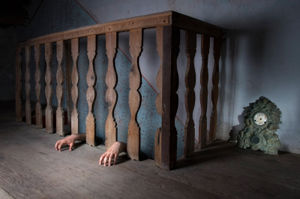 In our work occasionally we become freelance parapsychologists. On occasion I hear about the visitations by evil or malevolent spirits from my clients. One client told me she claimed she and her witness had woken up to claw marks in their wall over their bed. Definitely dark stuff – yet I feel most of us have dealt with these types of experiences, and still to this day, I am waiting for a spectre to actually injure someone. It is odd they only leave marks, trails of terror, but never any proof or reason for their appearances. Once again – all my clients survive these visitations!
On occasion yes, I do dream of people that have passed. On occasion victims of crime or murder tell me about their perpetrators, and even pass information onto me about their murderers next movements. This is a handy talent if you can handle the appearance they take on – usually one will see them in their last state. One example would be a victim that would have been mutilated – and yes, I have to wake up to the imagery of their death in my mind. Once a woman came to me begging me for help on finding her deceased boyfriend in the military and all she could do was cry. It can be emotional, and even when they have been badly injured, the spirits often seem pleasant, caring and supportive despite their appearance.
Also, I believe I have had victims come to me in kindness and in spirit of support even in these apparently unappealing and terrifying forms. In total I must have had at least a hundred dream visitations as people have passed on or after.  I have only seen a handful, or less in person appear in my sleep, between sleeping and waking.
I believe this is where the disconnect lies with spirits and humans – how are we to recognize them if they came in a pristine form? What message would they be able to relay if they came to us in their fashion finest? Would we recognize their fear? Would we understand what they are trying to help us with, prevent us from encountering, and perhaps even if it is too much to bear, to understand the suffering they went through. This is where I am an involuntary medium, even if I do not advertize it.
So if you see the moaning ghost, in its chains, wielding an axe, leaving marks in your walls, it can only do so in your sleep and in fact only knows how to impress its import upon us by appearing in its death shape.  The comfort is, I usually have found that family and friends appear in a non-threatening and more pleasant presentation, fully clothed in their best, and that usually the most frightening are people we simply do not know.
I do feel that to some extent we should respect the messages – yet all in the context of communication and what one is able to feel comfortable doing. I remember the time I was visited by a young lady in an old home I lived in . I have lived in a few haunted properties. She woke me up and wanted to talk. Yet, she woke me up – so I kindly asked her to depart as I was too young, too inexperienced and too sleepy to console her! She quietly retreated back in her Edwardian garb into my closet, and never bothered me again, as I told her upon her visit: 'That I could not possibly help her' and that I was indeed asleep. Perhaps she has found another child she can converse with, but in truth, when asked nicely, these spirits move on.
About The Author: Carmen Miro

Carmen's waking dreams have provided accurate glimpses into the future for celebrities as well as political and international figures. Her non-judgmental, Empathic approach, as well as her unique method of Tarot reading, affords her the reputation as a groundbreaker in her field. This European born Canadian is the first online psychic to promote the idea of Empathy and emotional thought transference, and she has written a great deal on the subject. For a comprehensive Intuitive reading that will transform your life, you can find Carmen at PsychicAccess.com.


<!div id="networkedblogs_nwidget_logo" style="padding:1px;margin:0px;background-color:#edeff4;text-align:center;height:21px;"><!a href="http://www.networkedblogs.com/" target="_blank" title="NetworkedBlogs"><!img style="border: none;" src="http://static.networkedblogs.com/static/images/logo_small.png" title="NetworkedBlogs"/><!/a><!/div>