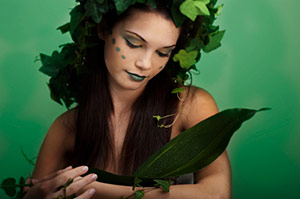 The Empress follows the High Priestess in the Major Arcana of the Tarot. While the High Priestess symbolizes spirit and intuition, the Empress symbolizes the material or physical aspect.
The Empress can be seen as 'Mother Earth'. She is the embodiment of abundance and the physical manifestation of Spirit. In the Crowley Thoth deck, the Empress is also seated on a throne, like the High Priestess, but she is surrounded by fertility symbols such as a swan and signets, as well as crescent moons. The Hebrew letter Daleth or 'door' appears on the bottom of this card. showing the Empress as the door through which all material or physical things manifest.
Some women seem so voluptuous in every sense, richly bountiful and fertile with generous gifts of plenty, sensual and confident in their female strength that they are called 'earth mothers.' That's how some days feel – when they are bountiful and fertile with the power of our imagination ~ Vera Nazarian
This card is not only associated with fertility, birth, creation and children, but also with a successful harvest, or plans and goals coming to fruition. This card bodes well for both fertility and family matters, as well as business, career and material concerns.
The Empress is ruled by the planet Venus, which affirms her link to the physical or material world, as well as that of romance and love. To me, she also symbolizes the emotional aspect of nurturing and caring, or the feminine aspect of deep loving relationship. She often represents a mother, wife or long-term partner in a Tarot spread.
The Empress brings with her the lesson that all that is within manifests outwardly over time, and that small beginnings often lead to bigger change or achievement. She also brings up the energy of creativity and the ability to take an idea or energy that is abstract and turn it into something tangible and real – something that can be experienced by the senses.
The lesson of this card is that of taking action in order to bring about growth, change and transformation. The smallest steps forward or actions can lead to bigger successes in time.  The grounded, patient and nurturing energy of the Empress reminds us that in time all manifests as it should, given that the inspiration is there and followed by practical action.
About The Author: Allanah is a South African treasure, living in a majestic place called the Boland, surrounded by mountains, vineyards and orchards. She's a phenomenal Tarot reader, who incorporates her natural claircognizant and clairsentient abilities to tackle any issue. She also studies crystal and Reiki healing, and makes her own natural homemade cosmetics and skincare products. With the added help of her personal guide, Allanah will assist you to make the right choices in your particular situation and help guide you onto a path that will lead to greater joy and love. With thousands of clients singing her praises, she welcomes everyone, from all walks of life. You can find Allanah at PsychicAccess.com.