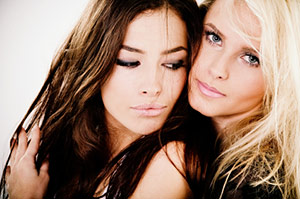 When a same sex partner is having couple challenges, and he or she has the need for psychic insight, who should they call for a psychic reading? The answer might surprise you.
We all know that Spirit Guides are non-judgmental when speaking to a soul, so aren't all psychic readers equally non-judgmental? The truth is that only someone, male or female, who is psychic and has studied diversity, including same sex relationships, will have both the ability to see psychically, and then, relay the messages with the right comprehension of diverse partnership challenges.
I am deeply humbled each time my Spirit Guides give me messages to offer to those who call for insight. Being of service to another on a psychic level is an enormous responsibility. It is also an awesome opportunity to ease pain and suffering.
What may work for you and your life; is not the road I will strive for. Respect my choices and do not judge or try to convince me otherwise  ~ Cath B. Akesson
However, I do not feel the same about my abilities or knowledge related to diverse partnerships. For 46 years I have studied the psychological aspects of the personalities that make gay, lesbian, bi-sexual, polyamorous, and transgendered people unique from other sexual expressions.
Over that extensive period of time a massive amount of scientific research has been undertaken, amazing reports have been published, myths have been shot down, and most amazingly, there have been massive changes socially.
I have read for, interviewed, and had close friendships with many people who have openly engaged in, or secretly dreamed of an alternative adult sexual lifestyle partnership. I have also engaged with the parents of teenagers who were struggling with gender identity, or uncertainty about their sexuality.
We can never judge the life of others, because each person knows only their own pain and renunciation. It's one thing to feel that you are on the right path, but it's another to think that yours is the only path ~ Paulo Coelho
What I have learned is that actual sexual expression is a tiny part of the whole person's being. The commitment to love another person is the hard part. The day-to-day compromises are interwoven. Domestic responsibilities, income producing avenues, work schedules, dating protocol, short and long term financial options, relationships with family and friends, and the challenges of raising children are more than likely handled differently when the couple is either gay, lesbian, bi-sexual, polyamorous, or transgendered. If psychic advice is not tailored to that social reality and to the spiritual needs of the Lesbian, Gay, Bisexual and Transgendered (LGBT) community, the psychic message may be misinterpreted.
The psychic is a conduit between a Spiritual Guide and the Seeker. No matter who the psychic is reading for, the spiritual messages must be explained to gay, lesbian, bi-sexual, polyamorous, or transgendered people with the same amount of compassion and understanding as the Spirit Guide intended. That is the goal that must be achieved.
About The Author: Jacquie Omi is a Master healer of children and animals who resides in a poor indigenous village in Central Mexico. She is a deeply spiritual practitioner and a well educated research scientist who brings her Eastern thought into Western situations. She has been a nonprofit leader since 1986, the president of an educational project since 1991, an Arizona State Certified Teacher (birth ­ grade 12) and a facilitator of businesses since 1986. To attain inner peace and draw positive healing energy into your life, Jacquie can be found at PsychicAccess.com