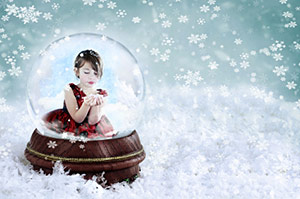 Growing up in a family of psychics can be very challenging and unusual. I am a fifth generation psychic. All of the women on the maternal side of our family tree, have been gifted or blessed in some way. Many of us read Tarot Cards, a few had the gift of premonition. I'm the only energy healer, that I know of.
Being born psychic doesn't mean that you don't have to work at it. Consider Michael Phelps, the Olympian swimmer, as an example. He had amazing talent, but he was continually challenging himself to do more, go faster, and be the best swimmer that he could be. The same holds true for a talented psychic.
There are no seven wonders of the world in the eyes of a child.  There are seven million ~ Walt Streightiff
My mother and grandmother were always quite pleased when some aspect of my psychic development emerged. They enjoyed testing me. "Oh, that's nice that you can do that, now try this," they would say. They were always encouraging me to try harder, to see more. They were always 'raising the psychic bar' for me to do well.
Being psychic it seems that there are always "sidelines" that pop-up. For me, one of my many pop-ups was being able to communicate with animals. I've spoken with a variety of different animals and birds – an alpaca, a gecko, a caged tiger, a chipmunk, a turkey vulture, robins, squirrels, dogs and cats of all sorts, and more. I have regular conversations with our own two cats and our dog. Sometimes, it's better not to know what your cat thinks about you!
Another pop-up has been psychometry – the ability to touch an item and discern or divine information about people or events associated with that item. For example, a client brought me a watch that had belonged to his deceased father-in-law. The moment that I held the watch in my hand I asked, "Why did your father-in-law hide money?" The student was stunned. He explained that several days after his father-in-law's funeral, a few family members had gathered to help with the task of removing his clothes from the closet and drawers. In each suit jacket, money was found. This happened at least 10-15 times that day, resulting in over $4,000 in cash. I had no prior knowledge of this incident.
When I stand before God at the end of my life, I would hope that I would not have a single bit of talent left, and could say, 'I used everything you gave me' ~ Erma Bombeck
Luckily for me, I am blessed to have a very supportive and understanding husband. He may not always understand how I know something, but he never doubts what I know. He simply accepts that I have gifts of receiving information that others do not have. This makes life in our home much easier for me. Many times he will remind me, that no everyone receives the types of information that I receive. It's good to be reminded of how very blessed I am!
About The Author: Being a psychic reader is not just what Tina does, it's who she is! A 5th generation psychic from PA, she reads at Expos, teaches Psychic Development workshops and metaphysical classes, and eases new clients onto their spiritual paths, holding Spirit circles for small and large groups. This energy reader, healer, Reiki Master, Medium and Shaman connects regularly to her Guides and Angels and encourages everyone to approach her with questions. For answers only Tina can deliver, you can find her at PsychicAccess.com.