Staying Present And Mindful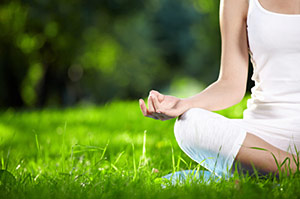 Please remember how important it is, if you are a sensitive individual, to include meditation in your daily rituals. Often empathic imprints and your own thoughts or emotions are indistinguishable from each other if you are not centered. This centering can come throughout the day in the form of mindfulness.
Mindfulness is based on the Buddhist ideology of being present within oneself within the moment. This being 'present' can be self taught in many different ways. Throughout the day, be present in yourself whilst breathing. Be present in yourself whilst eating. Be present in yourself whilst being alone. Be present when overwhelmed by emotion. Remember that you are not your emotion, or that your emotions are having you, and that you are not the sum of your emotions. You are the sum of your mind. You can learn to control this through connecting to the part of yourself that is still.
Its especially important now to remain mindful. Fortunately due to all the influx of technology not much needs to be done for you to feel more mindful. Due to the amount of sheer volume of audio and visual sensations, for the most part, all you need to do for now is to shut off the TV and internet to attain instant mindful practice. So in fact, now that stimuli have increased, so has our potential for attain mindfulness with just a couple of moments a day of not tuning into the juggernaut of information out there. Now, reading a book could be termed as 'somewhat more mindful'!
The premise is to be still – to be still enough to feel. This is not about stopping the exhalation of feeling, but trying to calm the distracted brain so you can feel emotion.
In being still, we begin to learn that emotion is fleeting. We can learn to discern what is us, and which emotions try to overpower or overwhelm us. In this, we learn to regain power over ourselves. It's also very important to remember that your emotions are an important facet to our higher selves, and that we should honor them.
In order to facilitate healthy emotional mindfulness, you can decide to remember to be mindful. This in itself is a beginning to the process. Even small moments of mindfulness are working towards training your brain towards learning a new process. The process is going to be important towards discovering a new point of self talk. When you are feeling overwhelmed, now instead of allowing the emotions to take you over, you can remember that these emotions, whether from within you, or from without will pass.
Here are some important ideas when trying to stay mindful:
Try and schedule at the same time every day, this way you get into a routine.
Try and be mindful of your emotions, and breathe deeply.
Be mindful of your breath.
Be mindful of what you eat, savoring each bite.
You can be mindful anywhere, on the bus, driving, at work, when you have a moment to be calm, it doesn't have to be in a special place.
It's easier to be mindful in a comfortable position. This means you do not have to be mindful in an upright lotus position.
If you cannot ( like me ) find much time to switch off from all the life-sustaining work and demands, then a few moments a day will help. Even simple acts such as sitting down at the dinner table to eat demonstrates more mindfulness than eating at the computer or in front of the TV. These simple steps help.
Remember, being mindful becomes easier as you go along. You don't have to be mindful for long. A moment at a time is okay. As time goes on, it will become longer, maybe a minute, then perhaps a few minutes. It's not very easy to still the brain, but it becomes easier just being aware of needing to be mindful. I promise you once you still your analytical brain you will be able to discover more about yourself and others!
About The Author: Carmen Miro

Carmen's waking dreams have provided accurate glimpses into the future for celebrities as well as political and international figures. Her non-judgmental, Empathic approach, as well as her unique method of Tarot reading, affords her the reputation as a groundbreaker in her field. This European born Canadian is the first online psychic to promote the idea of Empathy and emotional thought transference, and she has written a great deal on the subject. For a comprehensive Intuitive reading that will transform your life, you can find Carmen at PsychicAccess.com.