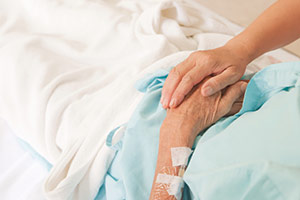 There is so much life beyond what we see here in the natural realm. Love has no boundaries that space and time can alter.
I have had my own personal experience with this love many times as a clairvoyant. I have witnessed many visitations of clients' loved ones, but I believe the most touching experience was with my mother, Ruth Ann.
For several years my mother suffered with diabetes, arthritis, and heart complications. Her physical life had become that of a shut-in. A few years back she also was diagnosed with Dementia and the beginning stages of Alzheimer's disease.
As her family tried to make everything as comfortable as possible, we all were heartbroken that we could bring her wellness. Everyone wanted to see the lively "pistol" that mom was. She had a energy like no other! It seemed her life on Earth was coming to an end.
I remember my mother's prayers and they have always followed me.  They have clung to me all my life ~ Abraham Lincoln
Mom would always share with me the loved ones she would see, whenever I would visit her. She saw my brother and father who both passed in 2003. She also saw my three uncles that passed in 2005. Some thought it was the Dementia or Alzheimer's disease, but I could feel so much peace whenever she would share her experiences. Not only did I feel peace, but I knew we were not alone in the room whenever she was sharing her stories!
Being clairvoyant from a very young age, I had a heartfelt understanding that she had been connecting with our loved ones. As beautiful as this was to me, it was also very alarming. Momma had never had this much psychic activity before in her life. There was a huge amount of psychic activity taking place whenever I would visit her. My alarm was the knowledge that she was close to leaving us in the natural realm, and about to embark on her spiritual afterlife.
During our visits, she had advice for me that could not be anything less than inspired from beyond. She seemed to have such a clear connection. Things in my life that I had not shared with her due to her frail state, she connected with and spoke about. A wisdom that I had never seen flow through my mother, although she was very intuitive. I realized I was receiving a spiritual blessing through her. Every area in which I felt misunderstood, there now was peace. We talked much about clairvoyance, telepathic abilities, and the afterlife.
Although I had already received insight into my gifts at age 25, I now felt validated from the one person that I that mattered so much in my childhood and early adulthood. We spent a lot of time during each visit in such a peaceful spiritual realm that I hated to ever have to leave. Momma was going through physical pain, but it all seemed to clear the room whenever she was able to speak of these things.
The real religion of the world comes from women much more than from men – from mothers most of all, who carry the key of our souls in their bosoms ~ Oliver Wendell Holmes
In June of 2012, mom began to fade out more and more. She seemed like she was in a different realm that I could not go. Having a near death experience in 1995, I had an understanding of where she was drifting off to, but it was not easy to accept. Our visits were cut short many times because she was not responsive and would fall into a deep sleep. I could feel the love and joy she was feeling. It was very peaceful.
Whenever I would wake in the morning and pray, I would hear clearly a voice telling me, "I am going to take her soon, and she will be okay." I just didn't feel ready for her to leave yet. In my calling, I am used as a medium to deliver messages to my clients on a regular basis. I understand what is going on, but this is my mom!
Shortly after my last visit with her, I was in prayer for my daughter who was going through a major depression episode, and had been for months. I heard a knock at my door. I went to answer the knock to find no one there except for two doves. They were beautiful, and immediately Spirit washed over me. I heard my mom say "Never give up!" She was very strong in her voice, so I knew I needed to listen. Once she had spoken the two doves flew away into the sunset sky.
Overwhelmed with the message and the delivery by the two doves, I immediately called the nursing home where momma was staying. She was still there and in her little bed sleeping! A feeling washed over me that she was telling me not to give up on my daughter's wellness.
For the next week, I spent time with my daughter trying to help her the best I could. Within a week I felt this draw in my spirit that something was going on with momma. The phone rang and it was my aunt letting me know that momma had passed away. I immediately dropped to my knees. As I was on my knees, momma wrapped her arms around me to let me know she was okay. Although still shocked and grieving, a peace fell over me like no other. Momma was free from pain, and happy! Her funeral services were beautiful, and I could feel her there with us.
A week after the funeral, my daughter said her "Nanny" visited her. My son said that he saw her at the wake. He said she walked through the wall smiling and looking at everyone that was there. She then walked back through the wall, leaving his heart knowing she was at peace and was going to be okay.
Today my daughter is continuing to heal from depression. She has came so far. I thought I would lose her. We are all settled and happy. I contribute a lot of that for my mom's undying love and messages from beyond. I have felt her presence with me from time to time. I sense her with me as I write this blog. A gift that truly shows that "love has no bounds."
About The Author: Pamela is a highly compassionate and approachable Psychic and Medium, based in Florida. She is knowledgeable on many faiths and philosophies and is even a certified Minister. After a near-death experience she should not have survived, she returned to her body to carry out her life's work to help others. She once identified a murderer, helping to put him behind bars, thanks to information she received from the deceased client's sister! Whether it's a stranger in the park or one of her long-term, devoted clients, Pamela feels blessed to help others along their path. If you want accurate answers from the Other Side, you can find Pamela at PsychicAccess.com.