Multi-Dimensional Psychic Readings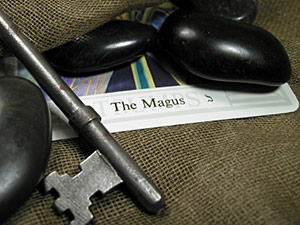 Readings consist of several layers. I would liken a proper psychic reading  as complex as a four dimensional Rubik's cube. To me readings can be governed by Physics, and also Mathematics – apart from the number symbols such as Numerology and Astrology, complex pathways that seem to intelligently intersect. You  will have many different layers in one reading and it there is an intelligent design.
You may have noted that I most easily cue into empathy first as I am primarily emotional, sensate and very interested in Psychology and social behavior. To me that is like mixing paints, complete with color and texture. It's fascinating as I love to explain each personality and their motivations, and no two personalities are alike.
Next I will glean the intuitive 'outcome'. This is a basic feeling I get.  This gives me in under two seconds a negative or positive overview of your outcome. The problem with this is that it summarized the outcome and does not explain to the client the depth and detail in how they attain this outcome.
Once I have done this I quickly consult my cards, and I would consider myself a speed card-flipper – I am able to read all the cards in the deck in under one minute.  Of course it will take me some time to explain to you what I was able to read from seventy eight cards in under a minute, but then that's why perhaps we must have a little time to dialogue.
Then I will look at the tenses, time tenses and energetic values. I would be more than happy to explain to you  how I do this on the phone, as it would take too long to do so here. I then look at patterns and Numerology. Then I will be able to look at the imagery in the cards and the symbolism.  This is unique as no two readers will see the same imagery in the cards – usually this is free association. We all do this as card readers, some more than others. I prefer to work with basic non-evocative cards to make my own associations in my mind. This is how I like to train my mind.
This is how somewhere along my reading also imagery comes to me. Sometimes I get pictures. Yet, what often floats in are the loving caresses by their partners and the sensual imagery of the affection in a relationship.
Along the reading I tend to pop in and out of tenses, conversation and will have to explain the past, present, future, the imagery, your lovers words, and any additional details all at once. I may sound like I have too much information so you have to give me a minute to allow all this information to roll out.
As I explained in my last blog, at times I will 'assume' the person's personality. I can then truly go into the telepathic mind set and 'become' the clients partner. I occasionally will speak their words and utter their concerns. And yes, I would say this can be creepy, as I don't always know when I am doing this. This happens on and off throughout the reading depending on your questions. I can't say I know when I am doing this.
Apart from all this ( and you can note at this point there are over ten dimensional aspects to this one reading ) I will then also have to accept I am  reading not only my clients reading but layers upon layer of their reading. To further complicate the matter I can see what questions my clients will ask. I also know when they are about to get disconnected. I also can see if they are lying or testing me. Often I will see what they do for a living, and I get a full description of the client. When I am trying to get an answer on your boyfriend and I get the full description of you, it takes a while to distinguish the two.
For those who are curious about extra-dimensions, this to me is the most interesting phenomenon, because at some point this is where my time travel begins – through my client.
I will not only get layers more of your situation, but also of other people in your life, and anything affecting your job, lifestyle or future outcome, so this reading will not be just about you, but your world, the world around you, and what you can do at this point to affect your outcome.
In brief, please understand the immense complexity of one six minute reading and perhaps here you can understand why you will get such an information packed reading with me given even more time.
About The Author: Carmen Miro

Carmen's waking dreams have provided accurate glimpses into the future for celebrities as well as political and international figures. Her non-judgmental, Empathic approach, as well as her unique method of Tarot reading, affords her the reputation as a groundbreaker in her field. This European born Canadian is the first online psychic to promote the idea of Empathy and emotional thought transference, and she has written a great deal on the subject. For a comprehensive Intuitive reading that will transform your life, you can find Carmen at PsychicAccess.com.