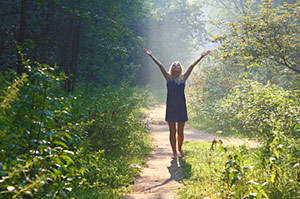 Understanding others is not your path, understanding yourself and your own choices is. Sometimes we forget that only we can make choices for ourselves. So many people surround us daily offer advice, but only you know what is best for you and your situation because you have access to memories and experience which is of value to you alone, and may not be valuable to others.
Offering advice is easy, but those who offer advice seldom have to live with the consequences of the choices made because of that advice. When you get advice, no matter who it is from, even if it is from the spirit world, always question it. Ask yourself, is this really good advice for me and for my situation, will it really help?
The strongest principle of growth lies in human choice ~ George Eliot
We have been blessed with rational intelligence and logic, but it is our choice as to whether we put the lessons we have learned to good use and convert it into wisdom. It is possible to be highly intelligent but to lack wisdom. Wisdom comes from years of experience and choosing to make good use of that experience.
When you receive guidance and advice from spirit guides, they are giving you the best possible advice, because your guides walk with you always. Some are with you from the time of conception until you return to the spirit world. So, like you, they fully understand your circumstances and situation. However, they cannot take away your free will choices. Any and every decision that you make must be because you have thought through the consequences yourself and feel that you are able to ultimately live with whatever decision you make.
I have sometimes gone for psychic readings and then decided to ignore the advice given to me by spirit guides, because I am who I am – stubborn and hard-headed! However, over the years I have come to recognize that my spirit guides have my best interests at heart and really want me to succeed without having to go through too much trauma. So, I am slowly learning to take their advice, rather than rejecting it and doing what I think is better.
The advice of friends must be received with a judicious reserve, we must not give ourselves up to it and follow it blindly, whether right or wrong ~ Pierre Charron
The wonderful thing about advice from spirit guides is that they can clearly see the consequences of any decision that you will make, whereas, even though you know your circumstances, you can't see into the future and you can only guess at the effect that your decisions will have a month, a year or ten years from now.
Generally, when we seek the advice or guidance of spirit guides, it's because we're facing life challenges, or we are caught up in turmoil and chaos of one form or another. We are emotionally 'confused' at the time and the advice gets confused in the jumble of our intense emotions. While it isn't easy, try to picture yourself out of the situation you are facing at that time, and listen to the advice as if you were an 'outsider.' In this way you may be better equipped to make your decision based on information you have been given by your spirit guides in love.
About The Author: Cynthia is a Medium from South Africa and is a pure channel for her personal guides and the guides of her clients. She delivers concise messages on a broad range of topics that she could not possibly have known about in advance! Trained by her clairvoyant aunt and grandmother, Cynthia honed her skills in spiritualist churches and led her own development circles. She's worked with police to find missing people and has helped to identify criminals. She's appeared on several local radio shows and at esoteric fairs throughout South Africa. If you'd like a reading with this remarkably gifted psychic and Medium, you can find Cynthia at PsychicAccess.com.