Making The Most Of The Gifts You Received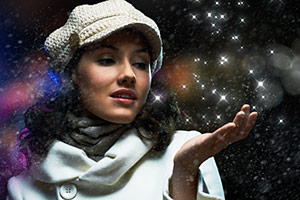 When I was very young I talked to people who were dead. I also knew things without being told, and I was interested in things that children, who grew up like I did, shouldn't be.  My mother's religion states that the patriarch of the home is also the spiritual leader of the home. To her that also meant that women do not have the right of divine prophecy.  My gifts and talents were not only not fostered, they were also frowned upon and I remember several instances when my mother or father would tell me I was being ridiculous and change the subject.
As a teen I began to study and practice Numerology, Astrology, Reflexology and Bio-feedback.  They were considered sciences by my family and therefore acceptable. These practices were therefore encouraged – apparently they made me a better, happier person.
When I stand before God at the end of my life, I would hope that I would not have a single bit of talent left, and could say, 'I used everything you gave me ~ Erma Bombeck
I figured out I was psychic after my  divorce.  I was 20 when he left me, but he was drawn to me and would come back for short periods of time.  He had moved to just over the state line which was a 3 hour drive.  I always knew when he was coming to see me.
I knew when boyfriends were cheating on me. I would wake up in the middle of the night, acknowledge what was happening, then go back to sleep.  The next morning I would write it down, then give it to him, without a word, when I saw him again.  He never confirmed it, but he never denied it either.
One of my children was a rebel.  Anytime I put my foot down, she would pack a bag and run away from home.  Within 48 hours I knew where she was and usually had her back home with me soon after.
Reading Tarot cards came easy to me too, the numbers, the colors, the relation of each card to another, all of that was so easy for me to grasp I thought it was easy for everyone.
I also learned a lot more while working on a psychic phone line. By that time I had found a mentor. She was patient, easy to talk to and very knowledgeable.
I spent a lot of time in chat rooms when they were popular and one day I was talking to my sister in law about a conversation I'd had having with another person and a name popped into my head "Michael".  The next time I talked to this person I asked him if his name was Michael. His answer, "You should be more careful where you look, one day you will see something you don't want to see.  Yes, my name is Jon Michael, but I go by Mike."
Life is not about discovering our talents; it is about pushing our talents to the limit and discovering our genius ~ Robert Brault
Soon after the experience with Michael two more names popped into my head and I quickly confirmed that they were indeed the names of the people I thought they were.  It rattled me so much that I shut it down.  I didn't know what to do, and I was freaked!
I know I've mentioned this before but a few years ago I started hearing from the dead – but only in the shower.  What I've learned since then is that when I'm in the shower, I am also spiritually bare.  Things come up, or someone will show up and the water helps me process them, figure out what they mean, what they want.
I am working very hard to be able to get names again and although I am not satisfied with the progress, once in a while I do get a name. More often than not though I'll get part of a name or initials.  I've stopped pushing names and spirits away and I believe it's easier to live in the psychic realm because of it.
I believe every experience is an opportunity to learn a lesson, sometimes a very valuable one.  The lesson this time: Don't struggle, accept the gifts you're given, use them to help others, use them to grow, use them to make your mark, no matter what gifts you have, use them for the good.
About The Author: Indigo

Indigo is an Indigo child, her gifts have been handed down through generations, and she has used them since she was a teenager. Using a unique blend of, tarot, astrology, numerology, psychology and clairvoyance, she is able to give you the most information in the shortest time possible to help you find a way to change your situation. She has been a spiritual advisor in her community for 20 years and continues her education, while fostering the gifts she has handed down to her grand-children. You can get a reading from Indigo at PsychicAccess.com.


<!div id="networkedblogs_nwidget_logo" style="padding:1px;margin:0px;background-color:#edeff4;text-align:center;height:21px;"><!a href="http://www.networkedblogs.com/" target="_blank" title="NetworkedBlogs"><!img style="border: none;" src="http://static.networkedblogs.com/static/images/logo_small.png" title="NetworkedBlogs"/><!/a><!/div>