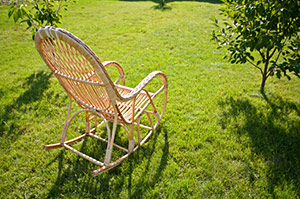 As a professional psychic I go through many calls a day. Each and every client has a need for guidance and a light to shine on the path they are on. Some wander off their path and are confused and upset. Others have problems of the heart and soul, and reach out desperately for guidance and comfort. Some I cry with, some I laugh with. Each client is different and unique.
Certain days, at the end of a shift, I am so exhausted on a mental level. I receive information in 'flashes' and they come fast and furious. It's hard sometimes to gather all the information coming through and relay it to the client. But there is a place I go to, no run to, for the serenity and comfort that helps me offer the best readings I can. That place is my rocking chair!
Your sacred space is where you can find yourself again and again ~ Joseph Campbell
My chair sits in a corner of my bedroom like a sanctuary, and when I take a call I can rock back and forth with a lit candle and total silence, and 'hear' the information coming through. I can focus on my clients' needs. That chair gives me strength and a calmness that ensure my total focus, while my abilities as a psychic allow me to channel the client and give my flashes of information at a quick pace in a to-the-point reading.  Sometimes I hang up after a call and still sit there and meditate on how blessed I am to be able to do what I do.
We all need a sanctuary like my chair to run to, where we feel safe and able to let our guard down. To reach out in love and light to help others around us takes equal live and light on the inside. This I find within with the support of my rocking chair. Yes, it's an inanimate object, but it's also 'my little corner' of the world. During some client calls I may pace back and forth in the room, but most times rocking back and forth helps me and takes me to deeper psychic levels that inspire me.
My family knows not to intrude when I'm in there with the door shut. My spirit guides are present and it is awesome to see how well things work out in the long run. When I am in my chair I feel like I am hovering between Heaven and Earth. Celestial beings are present and I always come out feeling a sense of peace and wonder. This is why I do what I do.
Finding a sanctuary, a place apart from time, is not so different from finding a faith ~ Pico Iyer
Our problems and needs are always present. But for every problem there is a solution, and I want to be the answer to the problem. It may sound silly, but I love to 'rejuvenate' in that chair. I can find astral travel, channel freely unencumbered and carry within the peace and serenity it brings.
Many times all of us need somewhere to go, somewhere to think, somewhere to know that God is present and won't let us down. I say my prayers in that chair. I have seen miracles happen within my family, community and friends when I commune with God. So, if you feel a need to find your little corner of the world to figure out your life path, then do two things: find a place that you feel is heaven-sent and call a reputable, experienced psychic to help guide you.
Sometimes life is hard. Sometimes joyful. And most times it falls in between. May you come to know the beauty of a peaceful spot of your own and find your joy, comfort and serenity there.  God blesses such sacred spaces. I know. I live it every single day.
About The Author: Mary has perfected her psychic talents since the age of three and has helped thousands in her forty-four years of service. She receives both direct and symbolic messages to her inner eye and works extensively with automatic writing to convey clear and precise messages to her clients. She enjoys a loyal following in her community, in California, and has helped hundreds there to find lost items, communicate with pets, and contact loved ones on the other side. It's both her privilege and passion to serve everyone she can. If you're eager to receive Mary's accurate inner eye messages, you can contact her at: PsychicAccess.com.


One Response to "My Rocking Chair Is My Sanctuary"