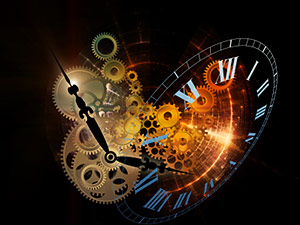 Delay is sometimes more important than we realize. We often berate ourselves for not doing something on time, perhaps it's not going to visit someone, or not picking up the telephone to make a call to someone who might feel better just knowing that we care, but there are always reasons for delays.
Very often we can't see it, but there's a plan at work in our lives and the lives of every individual on this planet. When we try to force things to happen, they often don't do the good that we anticipated they would. This is because there is a perfect time for everything, and in our eagerness to think that we're important we can ignore subtle clues that the universe is giving us. Think back on your life. Very often, when you have kept postponing doing something, or something hasn't happened in what you might have considered to be the 'right' time, it has worked out perfectly anyway! In fact, probably more perfectly than you could have imagined.
To be interested in changing seasons is a happier state of mind than to be hopelessly in love with spring ~ George Santayana
Each of us has what we might call instinct or intuition and that's what I would call our spirit guides nudging us to do, or perhaps not do something. Our spirit guides are there to help us and that means that when you feel something isn't right, there's a reason for that feeling.
Don't ignore the feelings that you get and do things just because you feel it's the 'right' thing to do. Listen to what your 'gut feel' is telling you and you'll find that you get the timing just exactly right.
So often I deal with individuals who want something to happen: a new job, a new love, a new child, and many other 'new' things. The message that comes through again and again is that it will happen in the perfect time.
We live in a world of 'fast' everything – fast food, fast service, cell phones, which means that we must now be available 24/7. But this need for instant gratification has also led to our being out of touch with the perfect timing of nature and the universe.
When seasons in our world appear to come too early or too late, like that recent snow that happened out of season or that rain that did not come, you don't hear Mother Earth complaining. She does not complain because she she's a spirit that has lived much longer than we have and has learned patience. She has an understanding that everything will be here in the perfect time.
It is a mistake to look too far ahead.  The chain of destiny can only be grasped one link at a time ~  Sir Winston Churchill
We need to learn to be more patient, to understand that behind everything that takes place around us there is a plan. There are spirit guides at work ensuring that our every need is taken care of and that things will take place.
Often we pray for something, almost begging the Great Spirit to make things happen immediately. We forget that Great Spirit has far better understanding than we do; that Great Spirit has a knowledge not only of what has been and what is, but also of what will be.
Learn to trust that everything will take place in perfect time and be patient. Nothing goes unnoticed and we are all in the Hands of Great Spirit, who is taking perfect care of all our lives.
About The Author: Cynthia is a Medium from South Africa and is a pure channel for her personal guides and the guides of her clients. She delivers concise messages on a broad range of topics that she could not possibly have known about in advance! Trained by her clairvoyant aunt and grandmother, Cynthia honed her skills in spiritualist churches and led her own development circles. She's worked with police to find missing people and has helped to identify criminals. She's appeared on several local radio shows and at esoteric fairs throughout South Africa. If you'd like a reading with this remarkably gifted psychic and Medium, you can find Cynthia at PsychicAccess.com.