Assuming Roles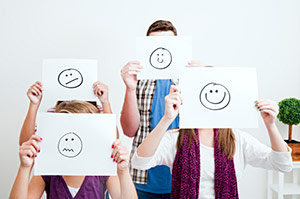 I feel comfortable enough in my empathic or telepathic approach to now own the new habit I have acquired: I will take on the tone of the person I am reading.
It's almost like being a ventriloquist on occasion – my voice will not change but if the person is in a stern frame of mind it may reflect in my vocal tone, or the way I emphasize certain phrases. I have been told I can parrot conversations verbatim, though I would say I would never know when I am. It is not like the words sound any different to me when I get them. If I were getting fragments of conversations, which I seem to, and then assume like an actress a little bit of their emotional gait, then you know I am deeply involved in the energy of the person I am assuming, and may act it out a little.
When this happens I can note this in particular with 'whiny' types. If it is very different from my own personal mood, I would take note of this change of tone in my voice and take it that I am role playing. It's quite interesting when my client falls into the role playing, and starts talking back to me, because she or he can recognize or hear a similar cadence or feeling that they know well from their partner.
I also am a good mimic, and when in different countries can take on accents and attitudes easily. I often take it in stride as survival mimicry, that when in a situation that is different blending in nicely with the culture or environment.
When I am taking on a sad person's energy I wont necessarily always feel their depression. It depends on that day's state of mind. Depression is more subtle and can also be felt as anger, rage or disinterest, abstraction. Yet oftentimes when I read person's like this I feel like I have been slightly sullied, my own mood affected, and the best thing for this ailment is to go for a walk, make some food, do something grounding or meet another complimentary energy for you, like a friend or if not, a strenuous physical activity.
About The Author: Carmen Miro

Carmen's waking dreams have provided accurate glimpses into the future for celebrities as well as political and international figures. Her non-judgmental, Empathic approach, as well as her unique method of Tarot reading, affords her the reputation as a groundbreaker in her field. This European born Canadian is the first online psychic to promote the idea of Empathy and emotional thought transference, and she has written a great deal on the subject. For a comprehensive Intuitive reading that will transform your life, you can find Carmen at PsychicAccess.com.