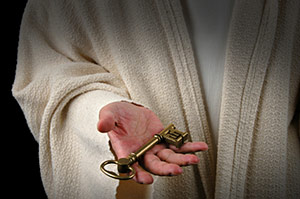 The system of help from spirit guides, while always being improved and corrected, is an ancient one and even in our world is well-recognized, and now quite advanced. Spirit guides need to be well-trained and are required to have lived in our material world, before undergoing a great deal of training in the spirit world, in order to be allowed to work as guides.
There are many forms that guidance can take and spirit guides become specialists in their field, before moving on to new experiences and new levels in the spirit world.
The Doorkeeper Guide is very seldom sensed by the individual, because they are chosen as a result of their almost perfect match to the individual. This guide functions as our protector from the spirit world. While this guide, like all others, cannot override our own choices.
When the Spirit of truth comes, he will guide you into all the truth, for he will not speak on his own authority, but whatever he hears he will speak, and he will declare to you the things that are to come ~ John 16:13
As soon as we invoke their protection, be it in the form of prayer, or picturing ourselves being surrounded by protective light or any other protective mechanism, this guide stands guard to protect us from invasions from entities in the spirit world that might overwhelm us.
Again, we can make choices that may put us at risk despite the protection provided by our Doorkeeper Guide. These choices include taking alcohol and drugs and then, while 'out of control', making contact with the spirit world. Because our own 'guarding reflex' has been lowered by the intake of a substance which makes our instinct and intuition weaker, the contact between this guide and ourselves is damaged in many ways at that time and we are no longer equipped to 'hear' (or perhaps 'feel' is a better word) the message of danger from this guide.
The other occasion when we, as individuals, are at risk is when we choose to dabble with what is known as clearance work, or sometimes better known as exorcism. The training for a psychic medium and the specialized spirit guides who work in this area is very specific, and protection and contact with the Doorkeeper Guide is essential for this work.
When I was 17 I had my first visit from Sam. Sam is my spirit guide who literally introduced himself! It was probably the most startling, yet loving, experience I've ever had ~ Derek Acorah
When an earth-bound spirit is released from the material world so that they can continue their journey back to the spirit realm, very little actual work is done by the medium. Most work is done by spirit guides who are specially trained to draw the trapped spirit back into the spirit world. However, the medium must provide energy in a material form which is used by spirit guides to release the bond that the earth-bound spirit has with the material world. During the energy exchange the earth-bound spirit moves through the physical body of the medium, using the necessary energy and putting the medium at risk.
The Doorkeeper Guide is very important to our physical well-being and can prevent invasions by spirit entities that could mean us harm. It is always best to be cautious when dealing with the spirit world.
About The Author: Cynthia is a Medium from South Africa and is a pure channel for her personal guides and the guides of her clients. She delivers concise messages on a broad range of topics that she could not possibly have known about in advance! Trained by her clairvoyant aunt and grandmother, Cynthia honed her skills in spiritualist churches and led her own development circles. She's worked with police to find missing people and has helped to identify criminals. She's appeared on several local radio shows and at esoteric fairs throughout South Africa. If you'd like a reading with this remarkably gifted psychic and Medium, you can find Cynthia at PsychicAccess.com.


One Response to "Doorkeeper Spirit Guides"