The Psychic Messages In Music
Published
April 27, 2013
|
By
Indigo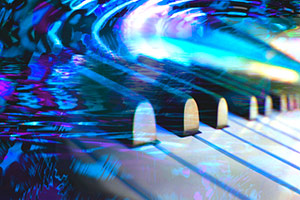 I've always loved music. Besides being soothing and an all round mood and energy shifter, it's been used to communicate with others since the dawn of time. I will frequently get a song in my head in two specific ways: some are from my mother; and those that are not from my mother. The 'mom songs' are Sunday school songs, the "not from mom' songs include everything else.
Popeye the Sailor sang a song, "I love to go swimming, with bowlegged women, and swim between their knees". One day I woke up to that song in my head and couldn't figure out who, why or what? I kept coming up blank. I knew that I knew the song from the past, but I couldn't remember exactly where I knew it from.
Music expresses that which cannot be said and on which it is impossible to be silent ~ Victor Hugo
After a few days I asked my husband if his father ever sang that song. He said it was one of many he would sing with his drinking buddies. So, it was just my father-in-law letting us know he was there spiritually to help guide us through some health issues.  When the message is delivered, the song always stops.
The other day a song by Kip Winger, Headed for a Heartbreak, got stuck in my head. I let it play for a couple of days, before really looking at it, because sometimes a song is just a song.  We have a son named Kip, and after a few days I called him to check in. He was having some issues with his 13-year-old daughter, and his wife was expecting again, but she was fine as far as he knew. We chatted for a few minutes then hung up. The song didn't go away.
The next day I called Kip again, and explained about the song, and had no idea why, but I wanted him to be extra careful, and pay extra attention to every single thing, especially the small things. Then I told him what the song was, and he disclosed that he and his wife were in the process of taking care of an issue at home, and both of them were agonizing about the decision. I honestly didn't know what to say to him, although I had been in his position at one time and advised him not to do what I did.
The song stopped.
All deep things are song.  It seems somehow the very central essence of us, song; as if all the rest were but wrappages and hulls! ~ Thomas Carlyle
Gifts like this can also be a curse at times, and it's up to each of us to decide how we will use them, or even if we do, we can choose not to use them at all if we want to. My Mother was psychic and prayed for it to be taken away from her. My grandmother used her gifts when she felt compelled to and just explained that God told her. She and I discussed it once, she told me then that I had to stop being afraid and ask for guidance.
What I've noticed, at least with me, is that no matter what I do, no matter how much I struggle to not get it, I get more information than I want, or need from places, that in some cases, I never knew existed. I understand I'm supposed to be giving messages to people and I've been told by other psychics that I'm not using even half of the gifts I've received from the Universe, but I'm working on it.
I meditate before bed, I ask my guides for the information I need to get something done. I also thank the Universe for the gifts I've received, and ask for the next right thing to do.
About The Author: Indigo

Indigo is an Indigo child, her gifts have been handed down through generations, and she has used them since she was a teenager. Using a unique blend of, tarot, astrology, numerology, psychology and clairvoyance, she is able to give you the most information in the shortest time possible to help you find a way to change your situation. She has been a spiritual advisor in her community for 20 years and continues her education, while fostering the gifts she has handed down to her grand-children. You can get a reading from Indigo at PsychicAccess.com.


Posted in

Afterlife, Intuition, Paranormal Phenomena, Psychic, Psychic Phenomena
|
Tagged

Afterlife, clairaudience, extra-sensory perception, ghost whisperer, ghosts, gifted, gifts, guidance, inner guidance, Intuition, intuitive, music, Paranormal Phenomena, precognition, premonition, psychic abilities, psychic attunement, psychic awareness, sensing, signs, sixth sense, spiritual messages, synchronicity, visitations
One Response to The Psychic Messages In Music
This site uses Akismet to reduce spam. Learn how your comment data is processed.