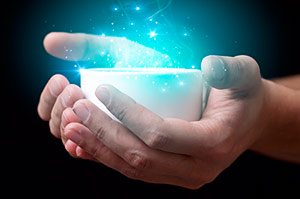 For centuries the reading of tea leaves have been used as divination practice. To read tea leaves is an art and one must gain an understanding of the mystical meaning of the patterns of the leaves remaining in the cup, after drinking the tea.
In both ancient and modern times many have seek the wisdom of the tea leaves to know their fate. The divination practice of the tea leaf reading, also known as Tasseography, is very similar to reading the Tarot cards, runes and the crystal ball. All these tools are pathways to the psychic language of symbolism.
I read the tea leaves as if they were words left over from a conversation between two cups ~ Kenny Knight
When the tea leaves open up your intuitive channels, you will receive insights in the form of images and pictures that have sacred messages. The images and visions can be similar to those you see in your dreams. The interpretation of their meaning come from the higher self. The higher self is that part of your psychic nature that is all-knowing.
To understand the meaning of the tea leaves you will receive images, thoughts, and words that all have an intuitive meaning in there interpretation. The higher self knows the meaning of the psychic language of the tea leaves and other divination tools that uses images and symbols.
To interpret the meaning of the tea leaves, simply allow their meaning to come from your intuitive mind. The intuitive mind is an aspect of your psychic nature that understands symbolism.
About The Author: As a child, Shelley's "feline whispering" translated to other animals, as well, and she has helped countless clients communicate with their beloved pets. She's saved many animals through her tireless devotion to rescue groups and has offered psychic counseling in-person and through her pet psychic column. Her incredible Mediumship abilities with people and pets have caught the notice of mainstream media and she has appeared as a featured guest on NBC, the Discovery Channel, several prominent newspapers, and on radio as a host of her own Psychic Horizon radio show! This Southern California psychic and Medium is also a paranormal group investigator, metaphysical writer, lecturer and psychic fair organizer who has been listed in The Street Smart Psychic Guide as one of the best pet psychics around. For a reading with this remarkable person and pet whisperer, pop on over to PsychicAccess.com


One Response to "Reading Tea Leaves"