Picking The Right Icon With Online Dating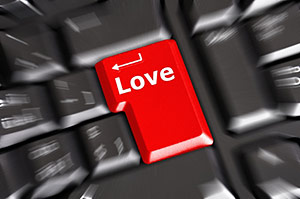 You are online dating – you are looking for that ideal person. You wonder why you stop just at that one icon. It's in the eyes. Look into their eyes. The first flash of emotion will seem obvious to you. "It looks like he is just making an expression in the picture, anyone can read that!". Go a bit deeper. This principal expression is actually a caricature of the person he is, in other words, it is intensified. You can take that information and go with it. If he looks angry: he is. If he looks frantic: he will not have the time for you, etc. It's really that easy.
Next: Which profiles stick out at you? Is it their color or their composition? You can sometimes get a rough 'feeling' off of a picture. It may be gentle, sad, or confusing. Take note of this feeling.
Then read the text in the profile. Sometimes people are not good at expressing themselves and may not write good profiles, but look out for key words like 'humor' 'love' or 'family'. Also look out for phrases like 'We'll see where this goes and if it works out, then maybe something more.  Or you may encounter' I am looking for this type of person" listing everything you are probably not. That could be the sign of a controlling personality. Do they talk more about their work?
Men usually do. So they perhaps are feeling insecure and will need a lot of stroking. If there are spelling mistakes chances are this person is either texting his profile and has no spell check, or he is not putting any effort into the profile. Even if he is dishy, run like hell.  Avoid those guys who think they have a sarcastic sense of humor and are proud of it. Chances are, they are acting arrogant and narcissistic.
So you got a letter: And it's not texted because it actually spells out entire words, and he has not just cut and pasted a form letter to send on to you. How do you read between the lines? This is the part where you need to take a bit of control. Usually you may be pushed to meet the person right away, because people feel that the internet is flaky, and want to push the rubbish out first.  The problem with that is that we need some time to get to know someone. Women beware – meeting right away is a con to pressure you into bed. You will not lose the right man if you wait.
Next there is the 'we have spoken on the phone so now we have to meet routine'. Don't let yourself get pressured into meeting. Remember he does not have as many dates coming at him as you are, and doesn't want to let this opportunity go. Keep your boundaries up. Hormones and attraction can skew impulses and make them more antsy, and he will still like you if he really wants more with you a few weeks down the road.
The conversation should be the most telltale sign. If you do not get on during the phone call, it may not work, but endure, because digital communication means very little these days. Listen to his tone of voice. Is it sexy to you? Is he listening to you? You can usually feel this receptiveness through your back and forth conversation, and he has to be interested in you. If he feels like he is pretending, he probably doesn't want a relationship right now and is chancing it.
It doesn't matter what popular culture dictates, you can still find good old fashioned values in many people, even on the internet. Just be careful what or how you say something, where you hang out, and go with that gut. Also remember a man is only as good as his associations – pay attention to who or what he associates with. Pay attention to his favorites, his persona, especially his online persona. It's a very good way to weed someone out very quickly – through their bad profile! In this case, it's a useful thing!
A picture tells a thousand words. And now, so does their networking pages. Take the overall impression without the pages, the bling, the glam. It's still like in real life, in the eyes.
About The Author: Carmen Miro

Carmen's waking dreams have provided accurate glimpses into the future for celebrities as well as political and international figures. Her non-judgmental, Empathic approach, as well as her unique method of Tarot reading, affords her the reputation as a groundbreaker in her field. This European born Canadian is the first online psychic to promote the idea of Empathy and emotional thought transference, and she has written a great deal on the subject. For a comprehensive Intuitive reading that will transform your life, you can find Carmen at PsychicAccess.com.