Perspective Is Power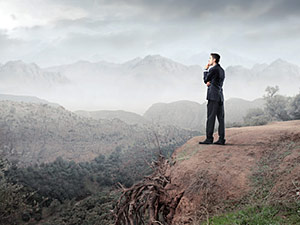 One of my favorite quotes is an old Jewish Proverb: "I ask not for lighter burdens, but for broader shoulders."
I discovered this axiom years ago when reading quotes from major religions, and when I remember to keep it in the forefront of my mind and imagination, it works wonders on my perspective about what I find myself dealing with in everyday life.
We have the power to be in the middle of our lives rather than at the mercy of our lives, and the foundation of that power is perspective.
For example, the above proverb is all about perspective and personal power. Struggle is a fact of life. Challenges will always present themselves to us no matter what social position, education, or gifts we have. We can ask our higher power to help us have lighter burdens, or we can ask for the capacity to cope with what life brings (broader shoulders). And, the ironic thing is that asking for broader shoulders can actually change our perception of our burdens, making them seem lighter, and thus, changing our perspective.
I am chained to the earth to pay for the freedom of my eyes ~ Antonio Porchia
To me, one of the most important components of doing readings for others is helping them see that even with predictions made about their lives, they are still part of how those predictions play out. In other words, the reading may show that a lost love was chased away because of our client's fear, but that this lost love wants to return if the client would chose to perceive love as joyful, instead of thinking of it as fearful.
The perspective we choose about our life and about love is as important as the predictions we receive about life and love. Managing our perspective is personal power at its most effective.
About The Author: Heartlight

Heartlight is an "Empathic Coach" with a lifetime of developing of ESP. With 16 years of working as a Psychic Adviser, (the last 7 years of adding Life, Motivational and Relationship Coaching training into the mix), she maintains a very loyal following at PsychicAccess.com. She goes beyond simply sharing messages about things that are hidden from her clients awareness along with information she receives about their future. Heartlight also coaches her callers to use the messages that come through her empathic gifts for their own highest good by blending kindness, humor and wisdom into her readings. Get a reading today with Heartlight at PsychicAccess.com.